Stars and fans out for Comic-Con expo in San Diego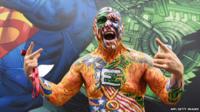 Comic-Con, America's biggest pop culture expo, is taking place in San Diego for the next few days.
Stars from the big and small screen gather for a mix of panel discussions and fan interviews in the US city 120 miles south of Los Angeles.
Penguins of Madagascar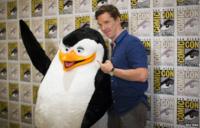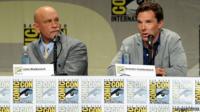 British actor Benedict Cumberbatch is promoting his voice role in Penguins of Madagascar and The Hobbit.
The British actor reveals he did not even meet any of his co-stars when he worked on the animated film.
The Sherlock star says he was told he would be recording his voice for animated children's film Penguins Of Madagascar alongside the other actors but he spent his time alone in a sound booth.
As he attends the launch of the film at Comic-Con, he says he met his fellow voice talent John Malkovich for the first time the day before.
Cumberbatch says: "I was promised that I would be in a room with actors at one point or another during the making of it, and we haven't had that experience yet.
"John and I were both moaning about that. I was really gutted about that because I was really looking forward to working with the penguins and John."
He calls Malkovich, who plays an evil octopus called Dave, "a legend of acting" and an "extraordinarily brilliant man".
Teenage Mutant Ninja Turtles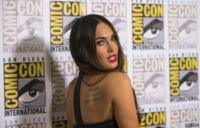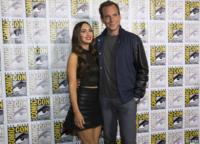 Megan Fox is at Comic-Con for her role as April O'Neil in Teenage Mutant Ninja Turtles.
She said she wasn't scared to present footage from the film to the 6,000-plus fans that pack the convention's largest hall.
"I'm not ever nervous to come here because I feel like everyone that's here is here because they're super-fans," she says.
"Maybe not of our particular franchise. But they're just, they're in love and fans of something. And so it's nice to be around people that aren't jaded, that are excited to be here. I think they were pleasantly surprised."
Her co-star Will Arnett had a slightly more negative view of the Comic-Con.
"I was surprised that they didn't do a better job moderating the people that asked questions," he says.
"That was a real grab-bag. There was a guy there? He started approaching the stage. I was like, 'Hey man, this isn't interactive, dude.' I feared for my life.
"Comic-Con, in a nutshell, is disturbing and borderline frightening. In the greatest way."
Goosebumps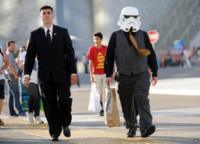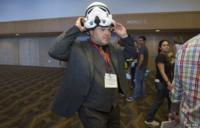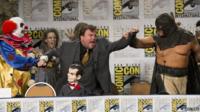 Jack Black is promoting his lead role as author R.L. Stine in movie Goosebumps.
It is far from his first Comic-Con and Black says he often heads home with new toys.
"It's always fun," he says. "I always leave with like a big bag of booty. When I say booty, I mean like statues and stuff. I don't mean like actual butts."
This time, he brings a red Hulk.
"I didn't know there was a red Hulk," he says. "But Hulk, apparently in other dimensions, is different colours. And the red Hulk is clearly the most formidable.
"He's extra-mad. You thought he was mad when he was green, wait until you see him red."
The Giver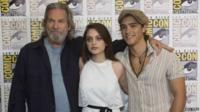 Brenton Thwaites, who stars with Jeff Bridges in The Giver, said he was glad to have made the trip but was on the lookout for other actors from his home country.
"I like my Aussies, bro," he says. "I mean, if Chris Hemsworth is anywhere, I'll probably go and introduce myself.
"I don't know. Is Joel Edgerton here? Sam Worthington? Maybe I'm the only Aussie here? I don't know."
Teen Wolf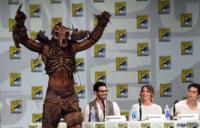 Fans squealed, screamed and cried at Thursday's Comic-Con panel for MTV's hit series Teen Wolf.
Before cast members like Tyler Posey, Dylan O'Brien, Tyler Hoechlin and Holland Roden took questions from fans, executive producer Jeff Davis announced the show had been picked up for a 20-episode, fifth season.
He also confirmed actor Dylan Sprayberry has been upped to a series regular.
Teen Wolf is a fresh take on the 1985 Michael J. Fox film of the same name.
In the first episode, Posey's character is bitten by a werewolf, which turns him into one as well.
He soon learns his town is filled with various packs of werewolves.
Davis says season five looks to filmmaker Steven Spielberg by focusing on "human problems instead of creating another mythology or creature".
Under The Dome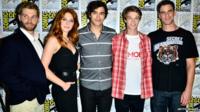 Under the Dome star Mike Vogel teased the possibility of some of the characters leaving the impenetrable dome that encompasses the town of Chester's Mill, Maine, on the TV show.
"A lot of people said, 'How do you maintain a show under a dome year after year?'" he says.
"They've come up with a really exciting and interesting way of broadening the scope of our world. I think everyone's in for a real treat once that happens."
Under the Dome is now in its second series in America.
Cast member Rachelle Lefevre said viewers will also see more about how the outside world is reacting to the dome.
"This season you will get your first glimpse of what the impact of the dome has been," she says.
And the death count will rise, with producers not afraid to kill off main cast members.
"When you're dead, you're dead, but that doesn't mean you can't be an avatar at some point and come back," teases executive producer Neal Baer.
Community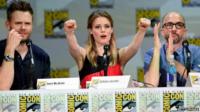 Community is going online to Yahoo in America but its creator says that doesn't mean it's in for a lot of changes.
Dan Harmon says he has "no big, highfalutin plans" for its web version.
Harmon reveals he doesn't want season six to feel radically different, especially to its loyal fans.
"My philosophy is [to] attempt to make the same show, and let the lack of boundaries make themselves felt.
"I don't want to take the wheels off so much that people think, 'Well, this is just some new show.'"
He also admits he wavered about the idea of taking the show to the internet.
He then asked himself, 'Does it really matter where we're doing this? I cannot be the one to not do this. Wherever this show is people will find it.'
Gillian Anderson recalls crying in her car when she thought Community was cancelled by NBC.
"I didn't want to let go of the show because there are few times in your life when you get to work on something that is good, funny and as groundbreaking and heart-warming as this," she says.
Sony Pictures Television and Yahoo struck a deal to make 13 episodes.
Harmon says writing doesn't begin until later in the year so season six shouldn't begin until at least Christmas in the US.
The plan is to release one episode per week rather than all at once, like with Netflix's original programming.
Community is about a group of misfit students at a Colorado community college.
Other shows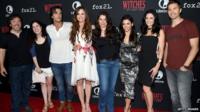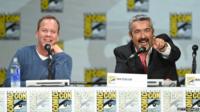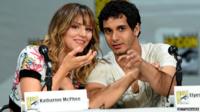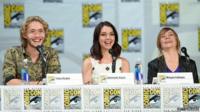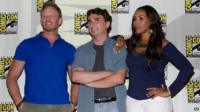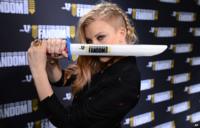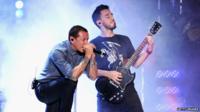 The fans
An estimated 150,000 devotees of comics, video games, fantasy and action movies are expected to visit the four-day event in southern California, many opting to wear costumes of their favourite characters.
The streets surrounding the festival resemble a surreal bazaar, as these pictures show.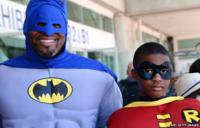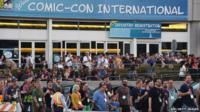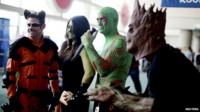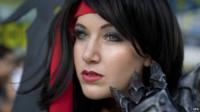 Comic-Con runs until Sunday.
Follow @BBCNewsbeat on Twitter and Radio1Newsbeat on YouTube