An ex-criminal has got a first class criminology degree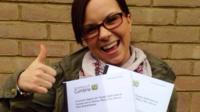 A reformed criminal who has said she committed more than 100 offences has gained a first class honours degree in criminology.
Natalie Atkinson has admitted she was "in and out of trouble" when she was a teenager.
However, despite leaving school when she was 12 years old, she scored 95% in her dissertation.
Natalie has also been named student of the year by the National Union of Students (NUS).
Placed into care at the age of 13, Natalie, from Lancaster, was regularly arrested for fighting and criminal damage and was "constantly in and out of prison cells".
The 25-year-old has said most of her offences were committed while under the influence of alcohol.
While going through the prison system, Natalie said she felt "angry with the world" because she "couldn't see any route out of crime".
"I don't think I was supported enough to come out of the criminal justice system," she told Newsbeat.
"When I went to prison they tried to label me as mentally ill. Nobody could understand why I was behaving the way I did, but I was just an angry teenager. Prison didn't help me."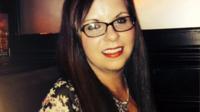 Natalie believes her time in prison caused her problems with addiction, depression and self-harm, but eventually she reached a point where she decided she wanted to turn her life around.
"I was sick of being in the same situation constantly and thought I could use my own experiences to help other people."
Natalie says she was worried about going to college because she felt two GCSEs was not enough.
However, she soon discovered criminology which became her passion because she felt she "already knew so much about the system".
She said: "Who would you rather have helping people in the same situation? Someone with a degree or someone with a degree and lived experience who has been there and done that and come out the other side?"
Natalie went on to do study policing, investigation and criminology at the University of Cumbria.
"I was really nervous when I went to university. I thought, 'I'm not going to fit in'. I hadn't been in education that long. I honestly thought it was going to really drag."
Natalie graduated with a first and won the NUS student of the year award.
"I just couldn't believe it when my name was read out. I never expected to win, but the presenter said I had won by a mile. I didn't know what to do when everyone started cheering. I was overwhelmed," she said.
"It was the icing on the cake and a good ending to this chapter. I never thought I would love education this much."
Natalie is now going to study for her masters degree in criminology at the London School of Economics and says she dreams of doing a PHD in the future.
The University of Cumbria, where Natalie studied, have called her "a truly inspirational woman and a fine example of how anything is possible, regardless of background and whatever has gone before".
Natalie has also become an activist and "role model" who works with young offenders.
"You just gain respect because you have been there. It just gives them that bit of encouragement, especially because I'm a female. Normally it's only males who go in and out of the criminal justice system."
Follow @BBCNewsbeat on Twitter and Radio1Newsbeat on YouTube