Heather Watson bans parents from Wimbledon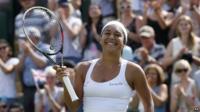 Heather Watson says she's banned her parents from coming to watch her at Wimbledon, in case they jinx her.
The British number one plays the German Angelique Kerber in the second round on Thursday but told Newsbeat: "My parents just like me to get on with it."
Watson beat Croatia's Ajla Tomljanovic in straight sets in the first round on Tuesday and isn't fazed by not having her family courtside to support her.
"I used to travel with my mum everywhere when I was starting.
"But as I've got older I think it's easier for me to focus with just me and my coach and give my full focus to the matches."
'Made a deal'
Her parents won't miss the whole tournament though if their daughter reaches the last 16.
"I've made a deal with my dad that if I reach the second week, he'll come and support me with my family."
Watson was forced to miss most of 2013 with a serious bout of glandular fever, and saw her ranking slip to 161.
She's since made a full recovery and has climbed back into the world's top 60.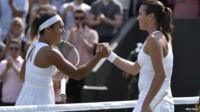 "My ultimate dream is to win Wimbledon," she told Newsbeat.
"Wimbledon is one of the oldest and most famous tournaments. I think it's most players' favourite of the year, it just has that special feeling."
'Put my feet up'
There will be even more attention on the 22-year-old from Guernsey at Wimbledon this year in the absence of the other British women's hope, Laura Robson, who has a wrist injury.
Watson told us she tries not to let the scale of the tournament overawe her.
"I don't stay at the Club too long [after matches], it can be quite distracting. There's always so much going on in the locker room - players warming up, others finishing.
"I like to go home put my feet up and watch TV."
Watson makes sure she has plenty of other distractions to take her mind off things whilst she's playing at Wimbledon.
"I love London, it's one of my favourite cities in the world," she said.
"I always like going to watch shows, but I don't know which one I should watch next as I've already seen half of them. So if you have any recommendations then please let me know."
Follow @BBCNewsbeat on Twitter and Radio1Newsbeat on YouTube