Jumbo jet smash film wins in anti-Heathrow competition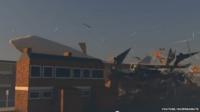 A video of a jumbo jet smashing into a street of houses has won a prize in an anti-Heathrow film competition.
The YouTube animation came second in a contest judged by Holly Willoughby, Hugh Grant and Boris Johnson's sister.
Entrants were asked to produce a short video to draw attention to the campaign against a third runway.
The £10,000 first prize went to a film called Heathrow Won't Listen which used aircraft noise to drown out the sounds of everyday life.
Say NO by Kevin Jarin and Jacob Green was an animation showing a Boeing 747 landing on a street in London and demolishing homes.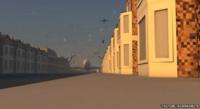 In October 2009, before he became prime minister, David Cameron said: "The third runway at Heathrow is not going ahead, no ifs, no buts."
Thirty months after taking power he set up a Commission to look again at the question of a new runway.
In May, Heathrow proposed improved compensation worth £550m for those affected by its plans for a third runway.
Last Wednesday around 1,000 people packed into the Richmond Theatre to watch and judge the best viral films.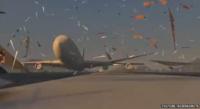 The No Ifs No Buts Film Competition staged by MP Zac Goldsmith in conjunction with the campaign group HACAN ClearSkies (Heathrow Association for the Control of Aircraft Noise) attracted more than 50 videos.
Fifteen were shown with the panel choosing the best three films and the audience picking the winner.
Follow us @BBCNewsbeat on Twitter and @Radio1Newsbeat on YouTube