Release date out for NWA biopic Straight Outta Compton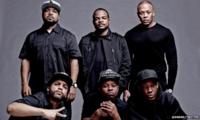 Dr Dre has shared further details of the forthcoming NWA biopic Straight Outta Compton.
The film will tell the story of the hip-hop group which was made up of Dr Dre, Ice Cube, DJ Yella, MC Ren and the late Eazy E.
Dr Dre and Eazy E will be played by newcomers Corey Hawkins and Jason Mitchell, while Ice Cube's son will take on the role of his father.
Dre confirmed on Twitter that the film would be released on 14 August 2015.
The film is named after the group's debut album and a single of the same name.
NWA was an American hip-hop group from Compton in Los Angeles and are widely considered as one of the pioneering acts of the gangsta rap and west coast hip-hop sub-genres.
They have been credited as one of the most important groups in the history of rap with track like Express Yourself and Gangsta, Gangsta appearing on their debut album.
Active between 1986 and 1991, the rap group were deemed controversial because of their explicit lyrics that many considered to be disrespectful to women, and glorifying drugs and crime.
The group was subsequently banned from many mainstream American radio stations.
The group has sold more than 10 million records in the United States.
Follow us @BBCNewsbeat on Twitter and on Radio1Newsbeat on YouTube