Twitter still 'learning' about trolling danger
Twitter has told Newsbeat it continues to "learn" about the best way to keep its users safe.
After criticism over high-profile cases of abuse, the company admits it faces "new challenges".
"We continue to learn from incidents like that," said Sinead McSweeney, Twitter's director of public policy for Europe, Middle East and Africa.
"If you stop learning, you stop providing a good service to your users."
Newsbeat was given unique access to Twitter's European HQ in Dublin, to find out how the company tries to keep users safe online.
Among the 150 employees on site are the user support and trust and safety teams.
Staff receive reports from users and assess what action should be taken.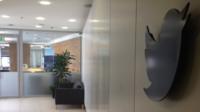 "They are providing a 24/7 service to our users worldwide," Ms McSweeney said.
"It can be serious work, with potentially grave consequences.
"But the teams here are trained to deal with those issues and we have policies and processes in place... so that they know how to get in touch where there is an emergency or somebody's life is in immediate danger."
Twitter faced calls to take tougher action on abusive messages after feminist campaigner Caroline Criado-Perez was repeatedly threatened.
Labour MP Stella Creasey also spoke about about the abuse she received on the social network.
Although Twitter will suspend or block some accounts, the company admitted it cannot keep individuals away completely.
In her first interview as global head of online safety outreach at Twitter, Patricia Cartes told Newsbeat they will try to keep repeated offenders off the platform.
"It's very hard but we certainly wouldn't want to let people whose only purpose it is to abuse others on the platform," she said.
In addition to abuse and threatening behaviour, Twitter also deals with reports of users at risk of self harm or suicide.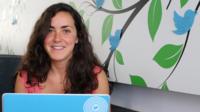 "Because this area is so sensitive we strive to look at reports within a matter of minutes," explained Ms Cartes.
Some users have urged Twitter to monitor its content more closely.
"With one billion tweets every two days we are neither in a position nor would it be technically possible to proactively moderate or monitor content," Ms McSweeney said.
"It is an open platform and we want, to the greatest extent possible, to be neutral."
She added: "There are people who have an approach of just banning or blocking content, then there are the approaches of educating people... which is to the greatest extent, the approach and philosophy that we take."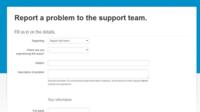 Twitter rejected the challenge that its teams dealing with abuse were just scratching the surface.
"I want to believe that we are doing something very meaningful and it's something that motivates me and the team to come into work every day," said Ms Cartes.
"Because of the nature of the platform and the features we provide, abuse continues to evolve, you never know what you're going to encounter when you come in to work.
"But at the same time most of what we see is positive and we try to remain positive."
Follow @BBCNewsbeat on Twitter and Radio1Newsbeat on YouTube