Jonah Hill 'sorry' for using homophobic word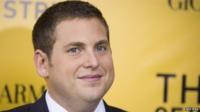 Jonah Hill has apologised for using a homophobic word in a row with a paparazzo photographer.
During a radio show interview in America, he admitted: "What I said in that moment was disgusting... I shouldn't have said that."
The Wolf of Wall Street star has been an active supporter of gay rights.
A video clip has been released of the row which Hill has described as a "heartbreaking situation".
He said he couldn't defend his actions but claimed the photographer had been following him around all day saying "hurtful things" about him and his family.
"I played in to exactly what he wanted and lost my cool," he admitted.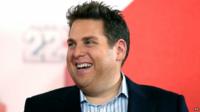 Hill claimed there was no excuse for what he had said, but added that he was happy to be "the poster boy" for thinking about what you say.
He said there was no place for offensive words.
"Even if you don't intend them... they are rude and in hate," he said.
"That does not at all reflect how I feel about any group of people."
Follow @BBCNewsbeat on Twitter and Radio1Newsbeat on YouTube