Justin Bieber is filmed telling a racist joke in 2011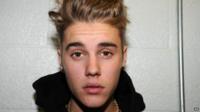 A video has emerged showing Justin Bieber using the n-word in a racist joke.
The footage, which was obtained by The Sun, was filmed for his Never Say Never documentary in 2011.
It shows Bieber smiling, sitting on a sofa with friends when he says: "Why are black people afraid of chainsaws?".
The singer, who is now 20, then finished his joke by making the noise of the chainsaw and repeating "Run n*****" five times.
Someone who cannot be seen on camera says: "Don't even say it. Don't say it." A female voice then says: "You could say motorcycle too right?".
The newspaper claims some people around Bieber have known about the clip for some time, and have spent money keeping it out of the public eye.
Newsbeat has contacted the singer's management by phone and email asking for a comment. They have yet to respond.
Two trials
It comes after a difficult year for the singer.
A judge in Florida recently delayed his trial on charges of driving under the influence until July.
The singer also faces charges of resisting arrest and driving with an expired licence.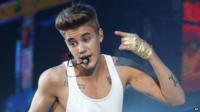 Bieber is also facing an assault charge in Canada after being accused of hitting a limousine driver on the back of the head.
Toronto police say Bieber hit the driver after picking him and five other people up from a nightclub in the early hours of 30 December.
His home was also searched in January, after he was accused of causing thousands of dollars worth of damage to a neighbour's house by throwing eggs.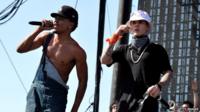 Follow @BBCNewsbeat on Twitter and Radio1Newsbeat on YouTube