Coldplay, bagpipes and fireworks close Day 1 of Radio 1's Big Weekend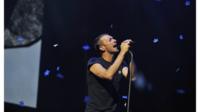 Coldplay closed the first night of Radio 1's Big Weekend in Glasgow with fireworks, lasers and bagpipes.
They played tracks from all five of their albums and included a short burst of One Direction's Best Song Ever.
Chris Martin thanked the crowd for being "amazing" and said he wished they could play there every day.
"I've been watching you all day and you've been so great," he told the crowd.
"Just give us the last bit of your energy."
They finished their epic set with a crowd sing-a-long of Fix You, interjected with Chris shouting "Holy moly, that was amazing."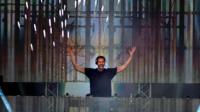 Calvin Harris warmed the crowd up beforehand, smashing through his hits, while his girlfriend Rita Ora danced on the side of the stage.
She was sporting a selection of long multi-coloured plaits which you can check out when she performs Sunday.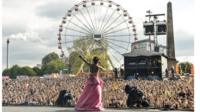 The only female on the main stage on Saturday was Lily Allen, who indulged in a number of costume changes and had magic clouds floating above the crowd.
As well as her new material, she performed her cover of Keane's Somewhere Only We Know before ending on Not Fair.
Lily admitted she "was feeling nervous" about her set, having "been out of the game for so long."
"It was amazing. No it was really good actually. I think it went alright."
"I thought they were going to hate me. But they were really nice and welcoming and everyone was happy. And I was really happy. I'm still happy. I'm happy."
She wasn't the only nervous lady on site, Katy B, who performed on the In New Music We Trust stage, felt a bit anxious too but loved the Glasgow crowd.
"I remember when I was supporting Magnetic Man on tour in 2010 and coming up here for the first time," she says.
"They made up chants with my name in, I just look forward to coming here on tour."
The day was kick-started by One Direction on the main stage, who had played in Dublin the night before.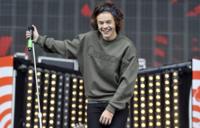 While over on the In New Music We Trust Stage, The Kooks made a welcome return to Radio 1's Big Weekend but were up against the mighty boyband.
"We won I think," frontman Luke Pritchard told Newsbeat.
"I kind of wish I'd been there myself, I would have been on side of stage, blowing kisses or something."
Throughout the day, the BBC Introducing stage gave upcoming artists like Darlia, Saint Raymond and Lyger a taste of the Big Weekend.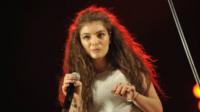 Double Grammy award winner Lorde played the In New Music We Trust stage and lucky festival goers might have spotted her in the crowd.
She told us she would be hanging around to catch some of the other acts but not hiding at the side of the stage.
"It's ok, I tie my hair up," she said about not being recognised in the crowd.
"Usually people are really nice, I haven't got the dark lip on, so people are sometimes like' who's that?'"
Chris Martin was spotted watching Ed Sheeran, who was spotted dancing to Pharrell Williams, who delighted the crowd with performances of Blurred Lines and Happy.
Other acts to play across the day included Bastille and Jake Bugg on the main stage.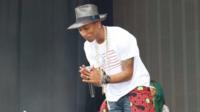 Over on the In Music We Trust stage, Bombay Bicycle Club and Clean Bandit dedicated songs to the Glasgow School of Art after its historic library was destroyed in a fire this week.
Coldplay also referenced the fire with Chris Martin dedicating Oceans to the students who lost their artwork.
Example closed Saturday night on the In New Music We Trust stage in Scottish fashion by toasting the crowd with a bottle of Buckfast.
He admitted he was immensely proud to be headlining a Radio 1 event.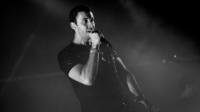 "Honestly like I said at the end it was one of the best ever, the magic in there was like, indescribable," he told us after he came off stage.
"You know I don't say that often, I do like hundreds of gigs a year and it's not often like that."
Live coverage of Radio 1's Big Weekend in Glasgow will be on Radio 1 and 1Xtra across the weekend.
BBC Radio 1 DJs Greg James and Jen Long will present BBC Three's coverage of the event on Sunday at 19:00 BST.
Radio 1's also launching a new live page for Big Weekend. Find out more
Follow @BBCNewsbeat on Twitter and Radio1Newsbeat on YouTube