New AEB braking technology would 'make cars safer'
Dozens of lives could be saved on UK roads if the law was changed to make a new type of technology compulsory in all new cars, according to road safety campaigners and insurance companies.
They want autonomous emergency braking (AEB) to become as common as seatbelts.
But there are worries that the system could make drivers too reliant on the technology.
It uses radar, camera and laser sensors fitted to the vehicle to detect potential collisions.
At the moment the system's only fitted in about a fifth of new cars.
Matthew Avery is director of research at Thatcham, the insurance industry's research centre and says AEB is "the next seatbelt".
He adds: "If the driver doesn't take avoiding action [it] will automatically brake the car to mitigate the crash or completely avoid it altogether."
The system works by using sensors fitted to the car which can detect if the car in front is slowing down or braking sharply.
It can then judge quickly if the car needs to come to an automatic emergency stop.
Tony Davison, whose son Adrian died in a car accident, campaigns about road safety and says AEB is an "excellent idea" and the government should make it a compulsory feature.
He says the moment a police officer knocked on his door to tell him his son had been in a fatal crash "ruined" his life.
"There hasn't been a single day goes by from then until now where I haven't thought about him and I haven't missed him," he adds.
"Anything that can be done to reduce other families having to go through what we've been through has to be a bonus."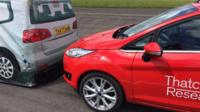 Road safety charities are calling for the government to make it mandatory for cars to be fitted with AEB.
They quote research from the insurance industry which suggests more than 1,220 lives could be saved over the next 10 years if that happened.
The Department for Transport has said there are no plans to make the system a legal requirement.
The technology has also been criticised over its cost, as prices range from anything from several hundred to several thousand pounds.
There are also concerns it could make drivers too reliant on technology.
Follow @BBCNewsbeat on Twitter and Radio1Newsbeat on YouTube