Justin Bieber on robbery claims: Don't believe rumours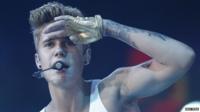 Justin Bieber has said people should not "believe rumours" after he was linked to an attempted robbery.
On Tuesday, the Los Angeles Police Department (LAPD) told Newsbeat it was investigating the singer's connection the incident.
But linking to a TMZ article, which claims the alleged victim was not robbed, Bieber wrote: "The truth will set you free."
LAPD said the singer was not arrested or questioned.
It's claimed the robbery took place in LA at around 22:30 EST on Monday.
When Newsbeat spoke to LAPD officer Rosario Herrera, she confirmed Bieber was being accused of attempted "robbery".
She said "the victim has been interviewed," but Justin Bieber has not been "detained, arrested or questioned".
During a series of tweets the singer said: "My mom raised me to be kind to others. I get judged, harassed, and I try to take the high road.
"Sometimes it isn't easy. But we keep trying."
He added: "I will continue to be the man my mother raised. I love people and I will try to be kind even when things are not fair. Don't believe rumours."
"Thanks for those who stick by me and those that help me grow everyday. I love you."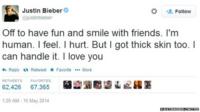 The 20-year-old then went on to tweet a link to an interview with American music prouder LA Reid, who talked about future projects involving the singer.
Justin Bieber was arrested at the end of January in Miami Beach after what police described as an illegal street drag race.
The singer also faces charges of resisting arrest and driving with an expired licence.
The trial was delayed from the beginning of next month to 7 July.
Follow @BBCNewsbeat on Twitter and Radio1Newsbeat on YouTube