Why care about the European elections?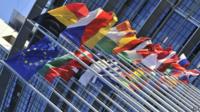 Eurovision's out of the way but there's another big European contest on the horizon.
The European elections take place on 22 May although it's fair to say not everyone's bursting with excitement.
More than 400 million people across Europe are able to vote on who represents them in the European Parliament.
This year's expected to see strong support for anti-EU parties across Europe.
What are we being asked to vote for?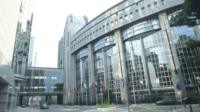 Seven hundred and sixty-six elected politicians from 28 countries meet in Brussels to debate plans put forward by the European Commission.
Newsbeat was given a tour of the parliament from the youngest MEP, 26-year-old Amelia Andersdotter from Sweden.
"Sometimes it's a nice place to work," she says. "Other times you want to hide under a pillow or dig a hole for yourself.
MEPs like Amelia are paid £6,537 a month and are also entitled to other expenses and allowances.
"Some people who voted for me probably understand very well what I'm doing but most probably don't understand at all."
What's the big question?
In or out? This vote isn't a referendum on our place in Europe, but it gives people a chance to make their feelings clear about the EU (and politicians back home).
Anti-EU parties are tipped to do well across Europe in 2014.
So what difference does Europe mean to my life?
When Newsbeat visited Brussels in April, MEPs were discussing everything from car noise levels to timber imports.
Here are a few examples of rules made by the parliament and other ways that being in the EU affects you.
Free movement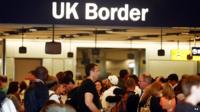 This is the one that's been getting much of the attention in the run-up to the election.
People are allowed to live and work freely within the European Union and that's led to many foreigners moving to the UK.
It also allows British people to work overseas.
Mobiles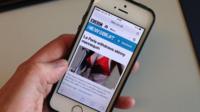 MEPs voted recently to scrap mobile roaming charges.
From next December it won't cost any more to call or get online when travelling around the EU.
Cigarettes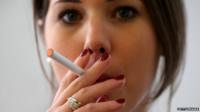 Menthol cigarettes and packs of 10 are set to be banned by the EU.
It's also bringing in tougher restrictions on E-cigarettes.
Even mangoes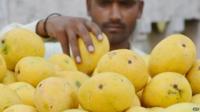 Indian (Alphonso) mangoes have been banned from the EU because of fears over food pests.
That might seem a bit random but there's been a serious reaction, with one MP claiming it'll cost the UK businesses millions of pounds.
...not to mention your cup of tea
Although Britain's major parties have different European policies, one thing they'd all agree on is that the EU isn't perfect.
"Sometimes I despair at the inefficiency of Brussels but it's better than the alternatives," says Amelia.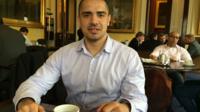 Adam Soliman isn't so sure. The 26-year-old from Warrington started his tea business five years ago.
The EU has been both a help and a hindrance.
Adam got European investment through a local fund in north-west England, but he's also been overwhelmed by paperwork and regulations.
For example he has to file reports on how much packaging he uses and make sure the writing on tea packets is precisely the right size.
"For me it's a lot of time, energy and money conforming to regulations rather than growing the business."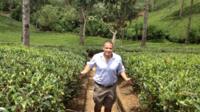 Here's a full list of British candidates for the European elections.
Follow @BBCNewsbeat on Twitter and Radio1Newsbeat on YouTube