TNA Impact Wrestling company 'gives women chances'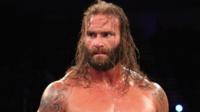 TNA star Gunner says Impact Wrestling "really gives women a chance" to compete against each other properly, unlike other companies.
The 31-year-old is a rising star within wrestling and recently confirmed he would be on the TNA UK tour in 2015.
"All the other females we have, they work their butts off and that's the thing, they're not going out there, having to do 30 second things on TV," he said in an interview with Newsbeat.
"Obviously another company does that."
He says he believes Impact is the company "women should want to strive to be with" if they are pursuing a career in the sport.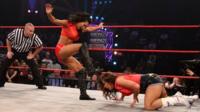 "Learn your craft," he said. "Look at Gail Kim, she can wrestle and that's important.
"Guys still want to see the girls wrestle too. I do, I like to see them wrestle if they know what they're doing."
Before joining Impact Wrestling, Gunner, whose real name is Chadwick "Chad" Lail, served in the US military and spent time in Iraq.
He has been with TNA since 2011 and is described by the company as a "promising young superstar" having been promoted from security duties.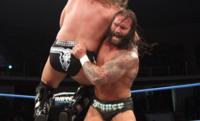 Gunner says he also believes TNA is giving him more of a "platform" to perform from.
"They're finally giving me an opportunity to run and I'm going to," he said.
"Bobby Roode is one of the main guys I really want to work a feud with."
Earlier this week organisers revealed Bully Ray, Magnus and Eric Young would be among the stars joining the UK TNA Impact Wrestling tour in January 2015.
Bobby Roode, Mr Anderson and Samoa Joe have also been confirmed for the event, which will visit London, Manchester and Glasgow.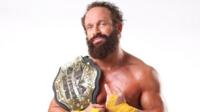 "Every member of the TNA roster who secures a slot on the UK tour is honoured by the opportunity," said world heavyweight champion Eric Young.
More names for the Maximum Impact 7 tour have still to be announced.
Gunner, who will also be on the tour, says the best thing about British fans is their "respect" for the performers.
"They respect the characters, they respect the story, they're not trying to be part of the show," he said.
"They're there to cheer, boo, and that's where they're emotionally invested. Their energy, that's the best part of it."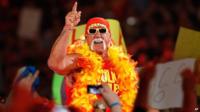 Recently TNA has seen some of its most high profile figures leave the company.
Hulk Hogan recently returned to WWE, while AJ Styles also quit in 2013.
"You have to replace them somehow and that's where you come with building the new stars," said Gunner.
"I don't think it's affected us in a bad way at all."
Follow @BBCNewsbeat on Twitter and Radio1Newsbeat on YouTube