Sister of cervical cancer patient wants routine tests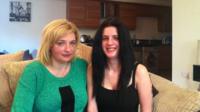 The twin of a teenager from Liverpool who died from cervical cancer says it was her sister's "only wish" to have the age at which girls are routinely offered smear tests to be lowered.
Sophie Jones, 19, died in March from the disease.
Her death led to an online petition which has attracted more than 300,000 signatures and has been debated in the House of Commons by MPs.
"It was Sophie's only wish to have the age lowered," said Ashleigh Jones.
"[It was] so that another family of a 19-year-old girl doesn't have to go through the process of what we went through."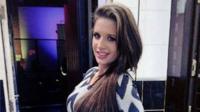 At the moment the NHS routinely screens women over 25 in England, Northern Ireland and Wales.
In Scotland it's women over the age of 20 but there are plans to raise that to 25 next year.
Peri Cawley, Sophie's mother, says she wants young girls to be able to make the choice about whether to go to their GP with possible symptoms such as vaginal bleeding or cramps and be offered a smear test.
The family say Sophie was originally misdiagnosed with Crohn's disease before doctors discovered she had cervical cancer in November 2013.
Ashleigh said it was unbearable to watch her sister go through such intense pain.
"I don't speak to anyone about it because then it's real," she admitted.
"To see her with her cheek bones sticking out, it just wasn't her, she wasn't that person."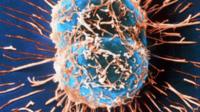 The MP for Wirral South, Alison McGovern, said the debate was a "massive tribute to Sophie and all her wonderful friends and family" and that GPs needed to have more awareness around the condition.
She added: "This is a really important opportunity to ask questions of the government about what more they can do to make sure that this is not likely to happen to anyone else."
The director of NHS Cancer Screening Programmes in England, Professor Julietta Patnick, says girls are only called for a test from 25 because the screening test doesn't work very well below that age.
"Women who had their cervixes treated at a young age, when they were pregnant they quite often ended up with a premature delivery, compared with women who didn't have their cervix treated," she said.
"We had no evidence of benefit and some evidence of harm, so we stopped."
Follow @BBCNewsbeat on Twitter and Radio1Newsbeat on YouTube