Big Bang Theory could end at season 10, says producer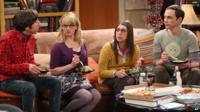 The chief writer of The Big Bang Theory has said he expects season 10 to be the end of the series.
Steve Molaro insisted there was no "official" end date but admitted he "would be okay" if the show drew to a close after three more seasons.
"I'm going to move forward along with [co-creator] Chuck [Lorre] that ten is the end unless we're told otherwise," he told The Hollywood Reporter.
Now in its seventh series, it means the show could end in 2017.
"My concern is that we do it right and we end this show in a way that is as befitting of these characters that we respect and love," he said.
"As long as we can have the opportunity to end it in a way that serves them all properly, that's my concern - more than the number of seasons."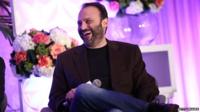 The show, which is about a group of friends who are science geeks, was recently commissioned for three more seasons.
Actor Jim Parsons, who plays the character of a scientific genius with negligible social skills, has already won three Emmy Awards for his role as Dr Sheldon Cooper.
The show has won four Emmy awards in total.
Its co-creator Chuck Lorre is also behind comedy Two and a Half Men, which is also likely to be renewed along with his other current hits, Mike and Molly, and Anna Faris sitcom Mom.
Steve Molaro, who has been writing for the show since it first aired in 2007, admitted the decision to end the show is still "far away".
"The mindset is it's going to be the ten and then we'll see what happens after that," he added.
The Big Bang Theory is currently on E4 on Thursday nights at 20:00 BST in the UK
Follow @BBCNewsbeat on Twitter