MPs call for better second-hand ticketing protection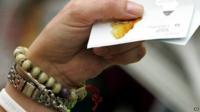 A group of MPs is calling for better protection for people buying second-hand tickets online.
It says websites should offer more compensation to those who get scammed.
There are also calls for more information about who the tickets are being sold by and investigations into those who resell more than 20 tickets for a single show.
There have been several examples recently of concert-goers being ripped off when buying tickets in the UK.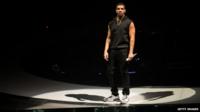 Last month, Drake's UK tour was hit by a wave of counterfeit tickets with bosses at London's O2 Arena saying they turned away up to 170 fans a night at the Canadian rapper's shows.
Some of the fake tickets were bought on Gumtree or Twitter, as well as secondary ticketing sites like Seatwave.
An O2 spokesperson said fans had been scammed by touts despite "a number of procedures in place to protect customers".
In February, Beyonce's shows at Manchester's Phones 4 U Arena were targeted with counterfeit tickets, resulting in more than 140 being rejected.
MPs say there are two main problems; fake tickets and those that aren't allowed to be resold, so are cancelled before the buyer gets to the show.
MP Sharon Hodgson is on the cross-party committee.
She said: "As the Metropolitan Police have said, the complete lack of transparency in the secondary ticketing market contributes to consumers getting ripped off - whether that's through artificially high prices or buying fake or cancelled tickets, as lots of Drake fans have unfortunately done recently.
"There's no excuse for inaction from either the secondary market or the government, and I hope ministers will use the Consumer Rights Bill to put fans first."
Her group's report says victims should get compensation for things like travel costs and also wants the websites themselves to take more responsibility over what they're selling.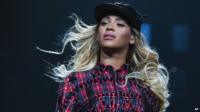 At the moment, the ideas are all recommendations and some may require a change in the law or for the industry to volunteer to make changes.
The MPs involved plan to suggest amendments to the Consumer Rights Bill, which is due to be debated in the Commons in May, to regulate what they call "a market estimated to be worth £1bn a year in the UK".
Reg Walker, who works for ticket security firm The Iridium Consultancy, recently told Newsbeat police were not investigating the crimes properly.
He said: "Our team dealt with 3,600 people who had presented invalid and counterfeit tickets for shows at one major venue in 2013.
"To date, not one victim has had justice or even the semblance of an investigation by police as ticket fraud is not viewed as a priority crime.
"At one festival on one day last year just under 1,000 people presented invalid and counterfeit tickets for entry in one day."
None of the ticket sites Newsbeat contacted have so far commented.
Follow @BBCNewsbeat on Twitter