Lindsay Lohan reveals having miscarriage in show finale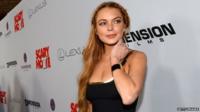 Lindsay Lohan has revealed that she suffered a miscarriage during the filming of a documentary series for Oprah Winfrey's Own network.
The 27-year-old actress made the announcement during Sunday's finale of Lindsay.
"No-one knows this - and we can finish after this - but I had a miscarriage for those two weeks that I took off," she said in the show.
She added that the miscarriage was the reason behind missing some filming.
"I couldn't move, I was sick... mentally, that messes with you," said the actress.
Lohan did not disclose the identity of the father or how far along in the pregnancy she was.
The show, which chronicles the former child star's life after rehab, started after she left a facility in August last year after completing a 90-day stay.
The Mean Girls and Parent Trap star has been treated in rehab a total of six times.
Own is yet to confirm if Lindsay, which gained a network record 693,000 viewers during its premiere, will be renewed for a second season.
However, a spokesperson said rumours that the show had been cancelled were untrue.
Lindsay Lohan is working on a new film called Inconceivable.
Follow @BBCNewsbeat on Twitter