Men 'don't know how to check for testicular cancer'
11 April 2014

From the section

Health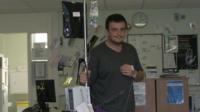 As many as 68% of men do not know how to check themselves for testicular cancer, new research suggests.
The survey, carried out by UK male cancer charity Orchid, questioned 3,000 men aged 15 to 45.
It also found that 50% of those surveyed would shy away from showing their GP if they discovered a lump.
Figures from the NHS show that testicular cancer is the most common form of the disease in men aged between 15 to 45.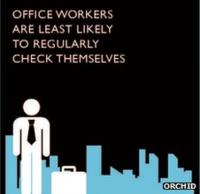 Each year around 2,300 men in that age group are diagnosed with the illness.
According to Orchid, the success rate for curing testicular cancer is high.
Rebecca Porta, chief executive of the charity, said: "If caught early, testicular cancer can be 98% curable.
"Sadly our findings indicate that men who delay seeking an early diagnosis may risk the disease spreading and a poor response to the treatment."
Find out how to check yourself for testicular cancer.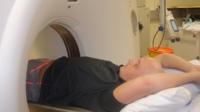 Griff Jones, 29, from Liverpool was diagnosed with testicular cancer four years ago.
He said he thinks if he had gone to the see his GP earlier he would have avoided the cancer spreading to his stomach and back.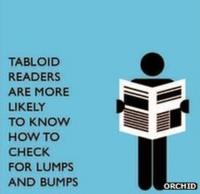 Griff received emergency chemotherapy in time to stop it spreading to his heart.
"There wasn't really an embarrassment, it's just that there wasn't really a lump, which is what you get told all the time to look out for," Griff said.
"Mine was a swelling, then a couple of days later it would go back to normal and I would feel fine.
"Then a couple of weeks later it would swell again with a bit of pain. I put it down to playing football, a slide tackle, or something like that," he added.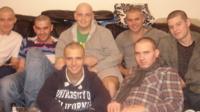 This latest research was conducted specifically for Cancer Awareness Week, which runs from 7 April to 13 April.
It found only 21% of men surveyed across the UK perform regular self-checks, with 50% admitting they would shy away from immediately showing their GP if they discovered a lump.
Unmarried men were less likely to know what to do, with 69% are unaware of how to correctly check themselves.
Data from 2009 suggested that 73% of men recognised a lump in their testicles as a sign of testicular cancer and in 2014 this has increased by 14% to 87%.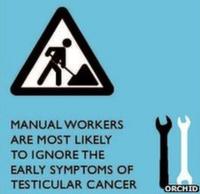 Orchid suggest this shows that awareness of the symptoms of the disease has increased but that men still are still not taking proactive steps to protect themselves.
Griff didn't think testicular cancer would happen to him.
"I was a pretty fit, I was playing football for Barnsley and had then moved to another semi-professional team. That's when I got myself checked," he said
"I now get a few people asking me to have a look at them, saying 'Griff I've got a bit of a lump or something', but I tell them to just go to the doctor."
Follow @BBCNewsbeat on Twitter