Geordie Shore star's weight-loss DVD advert banned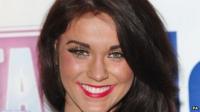 An advert for a weight-loss DVD featuring Geordie Shore star Vicky Pattison has been banned by the Advertising Standards Authority (ASA).
A complaint claimed that the television ad was misleading and encouraged viewers to believe they could lose three stone in a week.
The ASA upheld the complaint and said the advert could no longer be shown in its current form.
The ad had shown "before" and "after" weight-loss images of Pattison.
A voiceover stated: "Here's Vicky from Geordie Shore before she found 7 Day Slim: now look at her!"
She then said: "I've lost three stone with this DVD."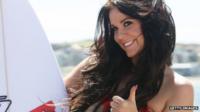 The ASA did acknowledge that there was on-screen text which stated: "Weight lost over six months. Works as part of a calorie controlled diet."
However, it ruled that a pale, moving background could have made it difficult for viewers to read it properly.
In response to the complaint, producers at Universal Pictures Ltd said it "did not consider that viewers would understand from the ad that weight loss of three stone could occur in seven days".
Clearcast, the advertising services company, said it "considered that that text was sufficient to qualify the basis of the weight-loss claims".
Despite these responses, ASA ruled: "Because we considered that the ad implied that weight loss similar to that reported by Vicky Pattison could be achieved in seven days through use of the 7 Day Slim product when that was not the case, we concluded that it was misleading and breached the code."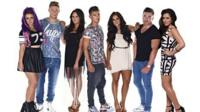 The 7 Day Slim topped the fitness charts in December 2013, with Pattinson taking first place from established work-out DVD star, Davina McCall.
"I'm absolutely delighted. Davina's a fitness legend and let's face it this time last year I couldn't even run for a bus, never mind present a fitness DVD," said Pattison at the time.
Earlier this year Pattison was sentenced to do 180 hours of unpaid work after admitting to assaulting a woman in nightclub, using a shoe.
Geordie Shore, MTV's top-rated show, has recently started filming its eight series.
Every episode of the last series had an audience average of over one million viewers.
Follow @BBCNewsbeat on Twitter