Game of Thrones confirms commission of two new series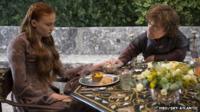 Game of Thrones has been commissioned for two new series, producers have confirmed.
"Raise a glass of Dornish wine. Game of Thrones is renewed for seasons five and six," the show posted on its official Facebook page.
It added: "Send a raven and spread the word across the realm."
The season four premiere of Game of Thrones gave HBO its top ratings since The Sopranos finale in 2007, it was announced earlier this week.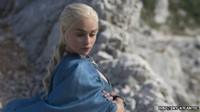 An average of 6.6 million watched the US network for the hit fantasy drama.
The mafia drama drew 11.9 million viewers for its final episode, according to the cable channel.
Game of Thrones also secured its biggest ever rating in the UK, with 1.2 million tuned into Sky Atlantic across two broadcasts, one a 02:00 BST simulcast with the US.
George R R Martin, the author of the A Song of Ice and Fire novels on which the programme is based, is also an executive producer on the show.
He has previously hinted at the possibility of a feature film to round-off the adaptation of his book.
The show also holds the record for the most illegally downloaded television programme.
In 2012, one episode of Game of Thrones racked up 4,280,000 illegal global downloads, according to Torrentfreak. That was slightly more than its estimated US television audience.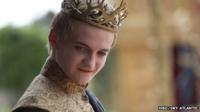 Earlier this week the digital service for television channel HBO was forced to apologise to customers, after the site crashed following high demand for the series four premiere.
HBO GO asked fans to wait for a later replay of the episode on the cable channel.
Last month, the service also crashed after demand to watch the finale of True Detective.
Follow us @BBCNewsbeat on Twitter