Army medic rehomes 'life-saving' sniffer dog with PTSD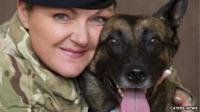 An army medic has rehomed a sniffer dog after finding out he was suffering from Post Traumatic Stress Disorder (PTSD) and faced being put down.
Angie McDonnell was on patrol near Camp Bastion with four-year-old Vidar in 2012 when he sniffed out hidden weapons.
She said: "He saved my life so it's only fair that I did what I could to save his."
"I would have done anything to make sure he had a loving home."
She added: "The dogs out there are heroes and I knew from the first moment I saw him that he was a one-in-a-million."
"When I heard he had been retired after starting to get scared, I knew I had to track him down to help him."
After Vidar, who is a Belgian Malinois, discovered the collection of guns and grenades they were recovered and disabled by explosives experts.
Angie believes she and her team would have been injured, if not killed, if they hadn't been found.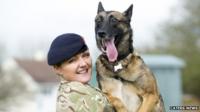 After two tours in Afghanistan, Vidar went back to a training camp in Germany where he started suffering from PTSD and his eyesight had also started to fail.
Angie said: "I had to find him after he had been such a hero in Afghanistan.
"The dogs out there do an amazing job, protecting the men and women serving their country from dangerous IEDs (Improvised Explosive Devices).
The pair now live at Angie's home in Barry, South Wales.
She said: "I thought we'd have the house torn apart when we brought him home because he wasn't used to living with a family but he's not ripped anything up.
"He's just the perfect dog and I'm so happy I can repay him for saving my life while we served together."
Follow us @BBCNewsbeat on Twitter.