Online porn seen by one-quarter by age 12, survey says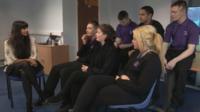 One in four young people say they saw online pornography by the age of 12, according to a survey commissioned by BBC Three.
Of the 1,000 people questioned, 7% were 10 or younger when they first saw internet porn.
As part of a documentary, Porn: What's the Harm? young people were asked for their opinions of online pornography.
More than half of those asked thought seeing internet porn affected their expectations of sex.
The survey of 1,002 people aged between 16 and 21 was carried out for the BBC by ICM between 9 and 16 January.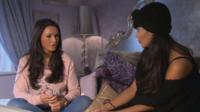 The most common response given in the survey, was that young men expect young women to behave like porn stars.
Other comments included an expectation that young women would behave like "sex objects" while others reported unrealistic ideas of women's bodies.
Dr Miranda Horvath and Dr Madeleine Coy, two of the UK's experts on sex and pornography, were involved in the analysis of the survey.
They reported a clear "gender difference" between the way boys and girls experience online porn.
One in five of the young women questioned said they had never seen internet pornography, but only 4% of young men said the same.
More than one-third of young people reported they had first seen online pornography by accident, either through searching for something else, a misleading link, or on social media.
In addition to gathering tips and techniques, many respondents said they looked at online pornography to fill in gaps left by school sex education.
The documentary, presented by BBC Radio 1 DJ and blogger Jameela Jamil, also investigates what is being done in schools to teach children and teenagers about sex and pornography.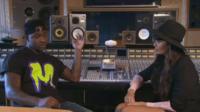 She also explores the influence of pornography on the music industry and speaks to MC and grime artist Skepta, who created a controversial video in 2011 for his track, All Around the House.
The footage shows two porn actors having sex.
He said: "I always try to think of something no-one else has done. I didn't want to promote it because I know I have young fans. I kind of left it for people to find."
Although Skepta, 31, appears in the video, he was not filmed having sex.
"My mum would be very upset if I did it. I know she wouldn't like it," he said.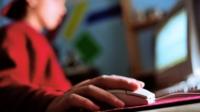 He also said he feels it is up to parents to educate their children and take responsibility for the images and videos young people are exposed to online.
"You shouldn't watch a video and not feel comfortable going back to your dad or your mum asking what's going on," he said.
The survey found the most common reason for looking at pornography online was for sexual stimulation, but education was also a popular motivation.
One young woman said: "Women [look at porn] for education, men for arousal."
A spokesperson for the Department for Education said: "Sex and relationship education is already compulsory in all maintained secondary schools and primary schools are able to teach it as well.
"Our statutory guidance, which all schools teaching sex and relationship education have to follow, specifically states children should learn 'how to recognise and avoid exploitation and abuse'.
"When teaching about sex and relationships, teachers must discuss the importance of stable relationships and help children understand how to stay safe."
Porn - What's the Harm? is on BBC Three at 21:00 on Thursday 10 April.
Follow @BBCNewsbeat on Twitter