PRS reveal a record revenue for 2013 of £665.7 million
7 April 2014

From the section

Music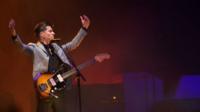 Musicians in the UK earned £665.7 million in royalties last year, according to PRS for Music.
The organisation, which pays musicians when their songs are played on radio, or in concert, said revenues had increased 3.7% in the last year.
Last year saw an 11.7% rise in international revenue, with international royalties breaking £200m.
PRS reported its first ever decline in 2011.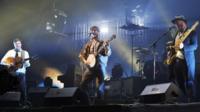 A rise in international demand for UK television shows and streaming services helped 2013's increase in revenue across Europe, North America and Australia.
Online revenues reached £61.2m in 2013, an increase of 18.3%, which was helped by new and renewed deals with the likes of Deezer and YouTube.
The online market continues to evolve apace, with the increasing transition from downloads to streaming.
Last year's revenue also shows that television and radio continues to provide significant income for songwriters and composers.
New licensing deals for services such as BT Sport resulted in a revenue of £160.4m, an increase of 4.8%.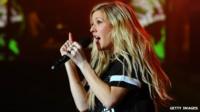 However, the closure of HMV branches and other retailers contributed to a 21% decline in revenue from the recorded media market.
Robert Ashcroft, Chief Executive, PRS for Music, said: "Copyright remains fundamental to our members' success. It's the lifeblood that keeps the wheels of creative production turning and that underpins the global creative economy."
Last year the BPI estimated that piracy costs the UK music industry around £200 million per year, with a Google transparency report showing the BPI had requested the removal of 35,401,959 URLs by October 2013.
Follow us @BBCNewsbeat on Twitter.