Sacked football managers: Where are the clubs now?
Norwich have sacked manager Chris Hughton and replaced him with youth coach Neil Adams.
The Canaries lost 1-0 to West Brom on Saturday, leaving them five points clear of relegation with five games left.
They are still to play Fulham, Liverpool, Manchester United, Chelsea and Arsenal.
Hughton is the eighth Premier League boss to be sacked this season. Here's how the other seven clubs have fared.
Sunderland
Sunderland sacked head coach Paolo Di Canio in September, with the Black Cats sitting bottom of the Premier League table.
Twenty four hours before he was sacked, the Italian walked onto the pitch and appeared to try to apologise to angry travelling supporters after a 3-0 defeat by West Brom.
"I absorb the insults as it's part of the game - if I was in their position I'd be furious," said the Italian.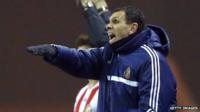 Who was he replaced by? Gus Poyet
Where were they then? 20th
Where are they now? 20th
Crystal Palace
In October, Ian Holloway left his position as manager of Crystal Palace by mutual consent after less than a year in charge at Selhurst Park.
"Ian felt that a new approach might help keep us in the division," chairman Steve Parish said.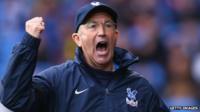 "Ian's been very noble and he's come forward and said: 'I can't do it.' I've spent three days trying to get Ian in the frame of mind that he can do it."
Who was he replaced by? Tony Pulis
Where were they then? 19th
Where are they now? 14th
Fulham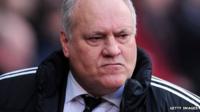 December saw Martin Jol being sacked by Fulham having been in charge since June 2011.
His dismissal came off the back of five straight Premier League defeats, which left the club 18th in the table.
At the time Jol said: "I'm disappointed but there are better days ahead for Fulham."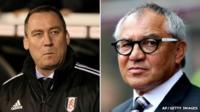 He was replaced by head coach Rene Meulensteen before Felix Magath took charge of the club in February.
Who was he replaced by? Rene Meulensteen (December) Felix Magath (February)
Where were they then? 18th
Where are they now? 18th
Cardiff City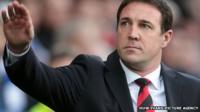 Malky Mackay was sacked as Cardiff City manager by the club's board of directors in December.
Billionaire Malaysian owner Vincent Tan said the dismissal was "regretfully" necessary to be fair to the club and its fans.
Mackay's removal followed a public row with Tan, who wrote to the manager on 16 December asking him to resign or be sacked.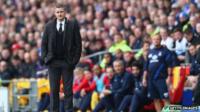 Mackay said: "I leave with my head held high having gained a level of experience that, upon reflection, I suspect would have been difficult to find anywhere else in British football."
Who was he replaced by? Ole Gunnar Solskjaer
Where were they then? 17th
Where are they now? 19th
Tottenham Hotspur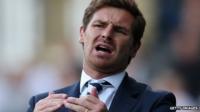 Tottenham sacked manager Andre Villas-Boas on December.
His replacement, Tim Sherwood, admitted his appointment as Tottenham's new head coach was a risky decision by chairman Daniel Levy.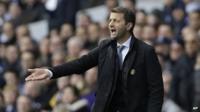 "It's a gamble because I've never done it before," he said, after his first game in charge.
Who was he replaced by? Tim Sherwood
Where were they then? 7th
Where are they now? 7th
West Brom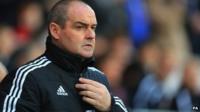 December also saw Steve Clarke being sacked as West Brom head coach.
Match of the Day pundit Alan Shearer said Clarke was unlucky to lose his job.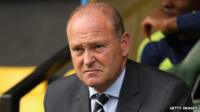 "It's very harsh," Shearer said.
"They overachieved last year and that put pressure on him. When you have a slow start to the season questions will always be asked.
"The chairman might look at it and think other clubs have improved [after changing manager]. But even so, you have to say it's extremely harsh."
Who was he replaced by? Pepe Mel
Where were they then? 16th
Where are they now? 16th
Swansea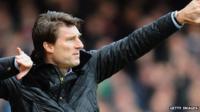 In February this year, Swansea City sacked Michael Laudrup and put club captain Garry Monk in charge.
It followed their sixth defeat in eight Premier League games, leaving the club only two points off the relegation places.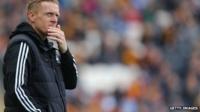 "It is a decision we have taken reluctantly," Swansea chairman Huw Jenkins told the club's website.
"But it's a decision made in the best interests of Swansea City football club and our supporters."
Who was he replaced by? Garry Monk
Where were they then? 12th
Where are they now? 15th
Follow @BBCNewsbeat on Twitter