Police crack down on Game of Thrones illegal downloads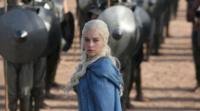 The City of London Police's specialist Intellectual Crime Property Unit (PIPCU) is cracking down on illegal download websites.
Officers have told Newsbeat that as well as creating an Infringing Website List (IWL), they will replace adverts with a message from the unit.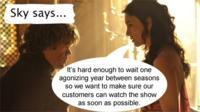 They have also been working with the advertising industry to stop household brands advertising on illegal sites.
It is all part of Operation Creative, which began in 2013.
Game of Thrones was the most illegally downloaded TV show for both series two and three consecutively.
During a pilot, rights holders identified 61 websites that were providing unauthorised access to copyrighted content.
After investigating the sites, the police would send a "prevention and deterrent" notice to the domain owners.
If they didn't comply, the next step was to ask a group of 60 brands, agencies and advertising technology businesses to stop advertising on these websites.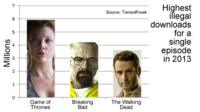 Head of PIPCU, DCI Andy Fyfe said: "Together we have created a process that first and foremost encourages offenders to change their behaviour so they are operating within the law.
"However, if they refuse to comply we now have the means to persuade businesses to move their advertising to different platforms and, if offending continues, for registrars to suspend the websites."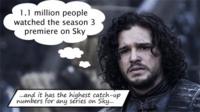 The level of piracy may be linked to the fact that the TV company behind it - HBO - does not allow Netflix, Hulu, Amazon Prime or other US streaming services access to its programmes.
It instead restricts them to its own HBO Go online product, which is only available to its cable subscribers.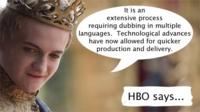 What about the argument that shows like Game of Thrones are difficult to get hold of digitally legally?
Newsbeat put that question to Sky Atlantic, which holds the broadcast rights of Game of Thrones in the UK. They refused to answer. The questions they did answer are below.
Why are you only simulcasting the first episode of Game of Thrones series four and not the entire series?
Game of Thrones has a loyal fan base who are as passionate about it as we are and that's why we are giving the hard core fans the chance to stay up and watch it exactly at the same time as fans in the US.
But Game of Thrones is also a "watercooler" moment TV show and a 9pm GMT slot allows more people to watch it together, enjoy it and then discuss the next day.
Why do you show Game of Thrones the day after the US?
It's hard enough to wait one agonising year between seasons so we want to make sure our customers can watch the show as soon as possible.
We put the following questions to HBO, the parent company which makes Game of Thrones, but they wouldn't say whether they are proud that so many people want to watch the show they download it illegally.
Why has it taken so long to reduce the broadcast times between the US and UK?
It is an extensive process requiring dubbing in multiple languages. Technological advances have now allowed for quicker production and delivery.
Why it has been so difficult to get hold of former seasons on legal digital or hardcopy platforms?
All prior seasons are available on DVD, digital electronic sell-through and remain available on HBO and partner services.
It is important to recognise that piracy is not an HBO issue but an industry issue.
Other top pirated shows air on traditional broadcast television.
Follow us @BBCNewsbeat on Twitter.