The Voice winner on 'giving back' to his community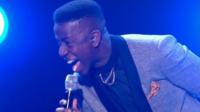 The winner of The Voice UK, Jermain Jackman, has said he wants to use his win to "give back" to his community.
The 19-year-old, who has worked as a Labour Party activist, said music could be more powerful than politics.
Speaking on BBC Radio 1Xtra he said: "When you're a politician you take things out of society. You're like a sponge."
"Whereas when you're successful in something creative, you're giving something back in."
During the series Jermain, from Hackney in east London, said that he wanted to become "the first singing black prime minister."
He suggested his win could help change negative perceptions of young people.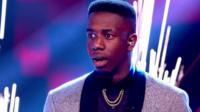 "We grow up in a society where there's a lack of opportunities for young people, especially in deprived parts of London and around the UK."
"This is a fantastic opportunity where people can now say inner city kids are not just criminals and trouble makers we're actually positive, we're intelligent enough, we're competent enough we actually have something to show and we want to have our voices heard."
Previous winners of The Voice have struggled to achieve chart success.
Jermain, who was mentored on the BBC 1 show by will.i.am said he would release a track "pretty soon."
He said he wanted to work with "positive and constructive people."
"I'm going to surround myself with a great team, management and label wise so that we can all grow together. There's going to be no time wasting," he said.
The former college student said the result was still sinking in.
"This is amazing. Who would've thought, 12 months ago I was in a college in Walthamstow, studying law, music, business and citizenship."
"I still feel like I'm floating on a cloud. Someone needs to pinch me and continue pinching me because I've no idea what this is all about."
"I didn't even think I would get a chair turned, let alone win the competition."