How young people see the Scottish vote on independence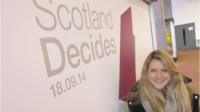 As the date of the Scottish referendum on independence nears, everyone from Simon Cowell to David Bowie seems to be wading into the debate.
While many will have a view, not all of us will get to have a say on Scotland's future.
As a Scottish person living in London, I'm included in that group.
But for the first time ever in the UK, 16 and 17-year-olds living in Scotland are being given the chance to vote on this Union-shaking issue.
Over the last few months, I've been on a journey to speak to those first times voters and find out the issues most important to them.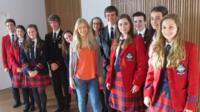 I started out back at my old school in Edinburgh, where the sixth-formers amazed me with their knowledge and passion regarding the issues that are highest on their own agendas.
The EU, currency, defence and our relationship with the rest of the UK all came up
As soon-to-be university students, the future of tuition fees was also a recurring issue for them.
The students had lots of questions for both the Yes Scotland and Better Together campaigns, which we later challenged each side to answer.
The same day, the debate over an independent Scotland's right to keep the Pound nearly sent the Newsbeat Facebook page into meltdown.
Newsbeat's politics reporter, Jim Taylor, was on hand to talk me through this important economic element of the debate.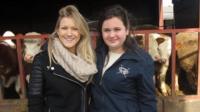 On my next stop, I met Kirsty at her farm in the Scottish Borders, just five miles from England.
She is one of 50 first time voters whose referendum journey is being tracked by the BBC's Generation 2014 project.
With just six months to go until the referendum, I got the chance to speak to some of the others in Glasgow, where they were hearing from both sides of the campaign in a feisty debate.
This clearly isn't just an issue which affects Scotland, and we wanted to know what young people in the rest of the UK think.
It was amazing to hear the views from pupils at a school in Yorkshire and to see how much they knew and cared about the upcoming referendum.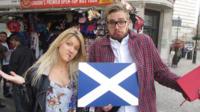 Finally, I met up with Scottish comedian Iain Stirling in a Scottish pub in London.
I wanted to know how funny the referendum could be as it hasn't really been the subject of much comedy so far.
Would comedians be too scared to make gags about something which people take so seriously?
Iain certainly didn't seem intimidated when we eavesdropped on one of his gigs.
With less than six months until the referendum, the first time voters I met made me see there are still a lot of big questions that need to be answered before many of them feel comfortable making such an important decision about their future.
BBC Radio 1's Stories: My First Vote is on Monday 7 April at 9pm on Radio 1.
Follow @BBCNewsbeat on Twitter