Rizzle Kicks' Jordan to make acting debut in new show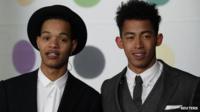 Jordan Stephens, one half of hip hop duo Rizzle Kicks, is set to make his acting debut in a new comedy-drama for E4.
Called Glue, it is set in the quiet village of Overton in the English countryside.
When a teenage boy is murdered his friends are "forced to open up their world" as the investigation gets underway.
It's due to screened later this year, with an exact date yet to be confirmed.
Making the switch from music to television is something the pair have been looking to do.
Stephens, along with his Rizzle Kicks partner Harley Alexander-Sule, had been working on their own sitcom.
"We just want it to be kind of funny and groundbreaking," said Jordan.
"So we had kind of like a pilot in the works and then another idea surfaced. So we've had to rethink, like, a lot of things," added Harley.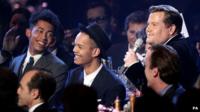 The pair said they also had a wish list of people they would like to star in their progrramme, but wouldn't reveal any names until the format was complete.
It comes after the pair recently expressed their disappointment with the current hip hop scene.
Grounded in hip-hop's "golden age" of laid-back grooves and dusty jazz samples, Stephens is decidedly unimpressed by his contemporaries.
"The stuff I'm hearing in the mainstream... it's overly-misogynistic and it's still homophobic," he says. "It does my head in."
The pair have previously toured the United States with Ed Sheeran.
Follow @BBCNewsbeat on Twitter