'Revenge porn' is increasing in the UK, say charities
Charities as well as one of the UK's leading online support groups have told Newsbeat they're dealing with a rise in complaints about "revenge porn".
It involves people uploading sexually explicit content of ex-partners without their permission.
In some cases personal details of victims are also posted online.
The National Stalking Helpline, Women's Aid and the UK Safer Internet Centre all say the problem has become more common.
It's led to calls from some campaigners for the UK to follow the example of a number of states in America, where specific laws aimed at stopping revenge porn have been introduced.
'Stupid mistake'
Anisha Vora's ex-boyfriend was jailed for six months in New Jersey earlier this year after he posted sexually explicit photos of her on several websites.
"I went from three sites to over 200. My ex was putting my address out, my phone number," said the 24-year-old.
"I stopped going to school for a year and a half. I was afraid to leave my house.
"I had known him for more than 10 years, it wasn't a nasty break-up we just went our own separate ways. I never thought he would post the photos."
Anisha admits she made a "stupid mistake" by sending them to him but says she trusted him.
"Once he put the pictures up he crossed the line. You're ruining someone's life."
Revenge porn laws are also in place in California, Texas and just this week were approved in Utah.
Currently, politicians in New York state are also campaigning for similar measures.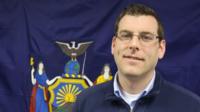 Assemblyman Ed Braunstein, who represents a community in the Queens borough of New York City, said the development of technology and more people sharing images means something needs to be done.
"We feel that the threat of jail time is the only way to get to some of the people sick enough to commit this kind of crime," he said.
"With the growing use of social media and cell phones this problem is only going to get worse."
The issue has even prompted one New York lawyer to set up her own legal practice devoted to tackling revenge porn.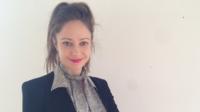 Carrie Goldberg, who is based in Brooklyn, said she has been overwhelmed by the number of victims asking for help since she started her practice in January 2014.
"The response was immediate and unexpected," she said.
"I'm getting calls daily from victims. Their ages range from as young as 13 to as old as 40."
She added: "Sexting images is not exceptional behaviour anymore. It's really, really common to take and send sexual images and it means more people are going to need protection from the law."
'Too embarrassed'
In the UK certain privacy and harassment laws can be applied if a person has committed more than one offence against their ex-partner.
Laura Higgins, helpline manager at the UK Safer Internet Centre, says her organisation has noticed a large increase in calls over the past 12 months.
"What we're getting is just the tip of the iceberg," she said.
"So many people are simply too embarrassed and humiliated to seek help or advice."
She has been calling for better support for victims, to mirror the help that is available in the US.
"I think we're a bit slow catching up here and because it's being talked about a lot more in America they're starting to introduce more robust laws.
"There is legislation here in the UK but I don't think it's very co-ordinated," she added.
"It depends very much on who your local police force are and whether your courts have had experience of dealing with these issues."
Separately, Heather Robertson, a law student at York University, has started an online petition for laws to recognise revenge porn as a sexual crime.
She set up the campaign after her friend became a victim. So far the petition has more than 2,000 signatures.
Follow @BBCNewsbeat on Twitter