Miley Cyrus fans sent R1's Jameela Jamil death threats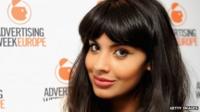 Radio 1 presenter Jameela Jamil has revealed she had "terrifying" death threats on social media after she criticised US singer Miley Cyrus.
"I have had quite a lot of those death threats, really scary, sexual threats," she said at a conference in London.
"All because I might have touched on Miley Cyrus and her overt use of her sexuality and vagina to give her more of a platform in the media."
Jamil also said women should start to "encourage one another".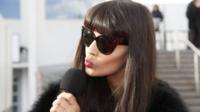 "You don't always see that in magazines and in all publications," she said.
"You see women tearing down other women, women publishing unflattering photographs of other women, chastising other women.
"It's time to encourage one another," she said at the Ad Week Europe Discussion.
"The media which criticises young people are the same media who are guilty of turning us against each other."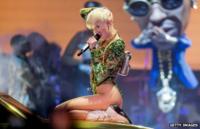 Jamil, who has also fronted television shows on the BBC and Channel 4, also spoke about the sexualisation of women in the media, popular culture and music, according to The Guardian.
"Women, especially a lot of pop stars, tend to treat it as if they are using it to empower themselves, taking ownership [of their bodies], taking the taboo out of it, when in fact what they are doing is perpetuating something created by men," she said.
"Women's bodies have always been used as a spectacle and objectified. This further perpetuates that.
"It's a bit of a shame because they have the platform to make a difference and to shape a generation's minds. It should not be abused and taken for granted."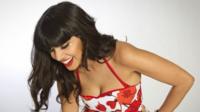 In a discussion about trolling and Jamil's own experiences after her Cyrus comments, she said: "I debated whether it was the right way to go necessarily for the progression of woman and it was just terrifying, the onslaught that you receive."
Jamil, who makes documentaries for BBC Three, criticised the corporation's decision to close down the TV channel, making it online-only next year, saying young people always "got the short end of the bargain".
"Look at T4 [on Channel 4] - it went away, now there is very little youth programming going on.
"Of course there was the odd questionable title [on BBC Three], as there is with any channel, but it was really specifically targeted at making documentaries for young people," she said.
"It was educating them, nurturing them, saying you are important, we are gifting you with knowledge that will arm you in later life.
"We are not doing that, we are expecting them to find it for themselves and everything is online now," added Jamil.
"Everyone is becoming very separated in the next generation, chatting on Facebook and Twitter. They are becoming isolated."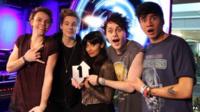 She said young people were often portrayed in the media as "spoiled and hard done by".
"We don't get nearly as much good press as we deserve," she added.
"I get particularly depressed by the way teenagers are portrayed in the media. They are massively underestimated.
"They are bright, intelligent people who are given less and less opportunity. They are an ignored generation."
Jamil became the first solo woman to present Radio 1's Chart Show. She took over from Reggie Yates last year, as part of a wider move to attract younger audiences to the station.
Previously she has hosted Channel 4 programmes including Freshly Squeezed, Playing It Straight and Koko Pop.
Follow @BBCNewsbeat on Twitter