SXSW crash driver faces 20 aggravated assault charges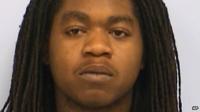 A man accused of driving through a crowd at the South by Southwest (SXSW) festival in Austin last month, has been charged with an additional 20 counts of aggravated assault.
If convicted of the new charges, Rashad Charjuan Owens could face life in prison.
The 21-year-old also faces two capital murder charges, which carry the possibility of the death penalty.
DeAndre Tatum was named as the fourth victim of the 13 March crash on Friday.
On March 17 Sandy Thuy Le, 26, was named as the third fatality following the incident.
Jamie Ranae West, 27, from Austin, and Steven Craenmehr, 35, from Amsterdam, died at the scene.
West was on a moped with her husband Evan West, 29, when they were hit - it had been previously reported that both of the fatalities had been on the moped.
As well as the four deaths, over 20 people were injured in the crash.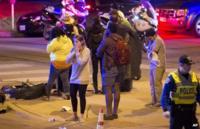 Austin Police Chief Art Acevedo said an officer on a drink-driving patrol had initially tried to stop Owens, who then tried to escape.
"It's clear for me from his actions, from what I've seen, that this is an individual who showed no regard for the human beings that he ploughed through in his attempt to get away," he added.
SXSW began as a music event in 1987.
It features technology conferences, a film festival and music showcases that draw in tens of thousands of people.
The music festival is known as one of the world's best platforms for rising talent.
Follow @BBCNewsbeat on Twitter