In pictures: Air pollution around the world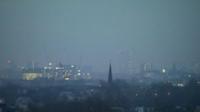 A rise in emergency calls over health problems has been reported as high levels of air pollution continue to affect parts of the UK.
London Ambulance Service reported a 14% rise in 999 calls relating to breathing difficulties on Wednesday.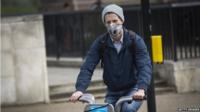 Data from Defra shows London and south-east England experiencing "very high" pollution levels on Thursday.
Yesterday, government health advice was issued amid warnings of air pollution spreading across England.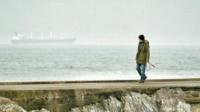 Defra put them out after high pollution levels were recorded on Tuesday.
The pollution - a mix of British and European emissions and dust blown in from the Sahara desert - were forecast in parts of south England, the Midlands and East Anglia.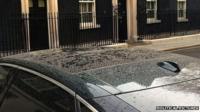 The low pressure in the Atlantic Ocean and high pressure to the east of the UK, combined with a south-easterly breeze, have pulled in pollutants from across Europe.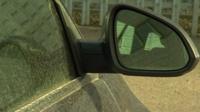 Defra has a 10-point scale for measuring air quality - with 1 meaning there is a "low" risk of air pollution and 10 warning of "very high" levels.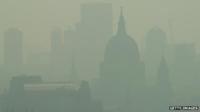 On Wednesday morning levels were recorded at 5 - meaning moderate - in the South East, north-east England and East Anglia.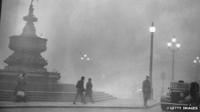 Other countries around the world have experienced poor air quality recently, too.
Paris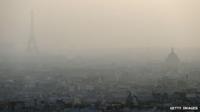 Last month, police monitored traffic in Paris after high pollution levels prompted the French government to impose major restrictions.
Only motorists with odd-numbered number plates were allowed to drive, the next day even numbered cars were let on the roads.
The smoggy conditions have been caused by a combination of cold nights and warm days, which have prevented pollution from dispersing.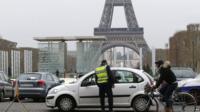 Ministers acted after air pollution exceeded safe levels for five days running in Paris and surrounding areas.
The environment ministry said lower traffic levels and a change in weather conditions had significantly improved the smog.
Beijing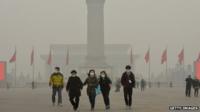 In February, particulate readings soared 15 times above the daily maximum recommended by the World Health Organization in the Chinese capital, Beijing.
In response, city authorities used a new smog alert system - a series of emergency measures meant to quickly reduce pollution levels and protect city dwellers.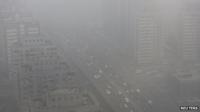 Residents were warned to stay indoors as much as possible to avoid outdoor air pollution.
Follow @BBCNewsbeat on Twitter