Russell Brand announces he is writing children's books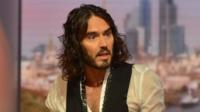 Russell Brand has revealed he is writing a series of children's books.
The series, called Russell Brand's Trickster Tales, will feature adaptations of popular fairy tales and folk stories.
The comedian posted a video on YouTube announcing the first title, a retelling of the Pied Piper of Hamelin.
The books will be illustrated by Chris Riddell, who has worked with authors including Philip Ridley, Brian Patten and Paul Stewart.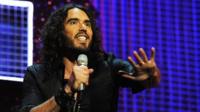 In the video, Brand reads from the beginning of the story: "Once upon a time, long ago, in a time that seemed to those present, exactly like now, except their teeth weren't so clean and more things were wooden, there was a town called Hamelin."
He adds: "It's the first of a series called Russell Brand's Trickster Tales, where I do interpretations of fairy stories and folk tales, believing them to be the code to unlock aspects of our consciousness, and to affect and impact the way that we see the world.
"Once we start changing the way children see the world… we can do all sorts of stuff."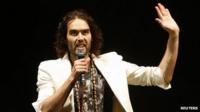 In the video, the actor and comedian shows pages from the book, along with pictures of rats and other illustrations drawn by Riddell.
According to The Bookseller, last month, it was announced that Century has signed a new non-fiction book from Brand, covering his views on ecology, rioting, and "the total mistrust of politicians".
Brand released his autobiography My Booky Wook in 2007, selling 826,336 copies through Nielsen Bookscan. He also wrote a sequel, Booky Wook 2: This Time It's Personal.
The YouTube video said that Russell Brand's Trickster Tales will be "coming this autumn" but does not announce a publisher.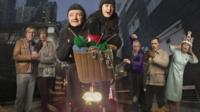 Brand is not the first comedian to write stories for children.
David Walliams, star of Little Britain and judge on Britain's Got Talent, is also a best-selling author and has written books including Ratburger, Gangsta Granny and Mr Stink.
Other stars with children's books to their names include Katie Price, Glee's Chris Colfer and Madonna.
Follow @BBCNewsbeat on Twitter