Jacko's duet partner on the blow of the This Is It tour
2 April 2014

From the section

Music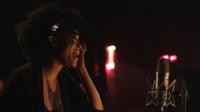 In 2009, aspiring American singer Judith Hill was on the verge of being a part of one of the world's most anticipated tours and her big break.
She had been picked as Michael Jackson's duet partner for his This Is It tour.
The 29-year-old was rehearsing with the late singer up until the day before he passed away.
"I was in a state of shock for so long and it was really really hard," she told Newsbeat.
Michael Jackson died in June 2009 from an overdose of prescription medication.
At the time he was about to embark on his comeback tour with 50 dates at the O2 in London.
"It was so traumatising when he died because it's like I saw him literally the night before and everything was fine," Hill explained.
"For him to pass over the night you just don't even believe it really."
The rehearsals for the tour were filmed and turned into a documentary, which have provided some happy memories for Hill.
"I think now, looking back, we can all say it was an honour to have been able to be the last people to spend with him, his last days here on earth," she said.
"Not only that but to be able to be the last ones to perform with him, to share his stage, it's so bittersweet, it's a special thing."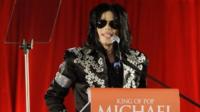 While it was an sad time for Judith personally, she admits professionally, it was difficult too.
"Yeah definitely, it would have been the biggest show ever, you know, the biggest thing so I definitely feel that the way," she said.
This would have meant huge exposure for the aspiring musician and fulfilling a dream thousands of singers had, to perform alongside Michael Jackson.
"It's a weird feeling because we would have wanted to celebrate with him alive.
"Doing the shows, that was the way it was supposed to go, not him passing away and talking about him dying for the rest of our lives."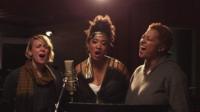 Despite the concerts not going ahead, it has still given Judith a certain amount of exposure.
She was a contestant on the US version of The Voice and is now one of the stars of a film bringing the backing singers to the front of the stage.
The Oscar-winning Twenty Feet From Stardom is an affectionate but bittersweet insight to the world of those ladies who always stand behind the "star".
"So that gap, it's really bigger than 20 feet," she laughs.
That gap is all about the decision to stay in the background or make the leap to being the star.
Judith admits, while you get to work with some incredible artists, it can be frustrating.
"Yes, especially when you're itching to perform so much and you've got so much to say," she says.
"When you're singing you also get inspired though, watching someone so brilliant, you're like a sponge you soak it up."
Judith has soaked it all up and she is now signed to Sony Records, with her debut album looking set for release later this year.
Twenty Feet From Stardom is in cinemas now.
Follow @BBCNewsbeat on Twitter