Union J's Jaymi: Fans support my same sex marriage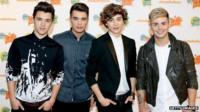 A change in the law means that from midnight tonight gay couples can get married in England and Wales.
Campaigners say it's about making sure they have the same rights and opportunities as everyone else.
But many religious groups are against the move.
Union J star Jaymi Hensley says he and his boyfriend Olly Marmon, who are planning to get married, have had a lot of support from the band's fans.
"[It's been] amazing. Especially this week with it being legalised.
"The fans have been great. It's been fun and we're just looking forward to the next year planning the wedding."
Jaymi and Olly have been together for around four years.
"Planning is full steam ahead so, stressful.
"Me and Olly are quite attention to detail so we know what we want but it's trying to get it all together and figure out how we're going to find the time to plan it.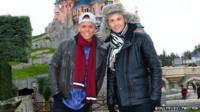 The singer said the couple have had to change the venue because of a "security breach" and that he is the more demanding of the two when it comes to planning the wedding.
"I really need it to be done quick."
"We waited two weeks for a quote on a sofa and I was like 'Hurry up.' I'm a bit crazy."
Legislation allowing gay marriage was passed in Scotland in February and the first same sex ceremonies are expected to take place in October.
Northern Ireland has no plans to change its current law which does not allow same sex marriages.
Follow @BBCNewsbeat on Twitter