Twitter makes changes to the way users tweet photos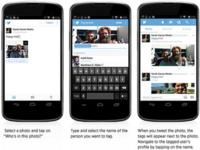 Twitter has made changes to the way its users tweet photos.
The social network has added a new feature which allows users to upload multiple photos in one tweet.
It's also launched a feature that lets users tag up to 10 friends in a single tweet. The company said in a blog post that it was making photos "more social" with the new features.
"We're rolling out two new mobile features that make photos on Twitter more social," the firm said.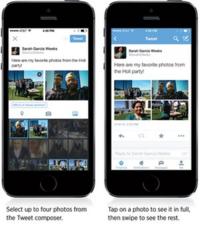 The first change is photo tagging, which lets you tag the people in your photo.
The other is the ability to include up to four photos in a tweet, which won't affect the 140 character limit.
To tag someone, users tap "Who's in this photo?" and then type in the person's username.
Twitter will send notifications to people who are tagged and those can be adjusted in user settings.
Both photo-tagging and tweets with multiple photos will display in embedded tweets, according to the post from Twitter software engineer Cesar Puerta.
At the moment, the update is only available on the iPhone, but it will be available on Android soon.
However, many Twitter users in the UK have said they can't use the service yet.
Follow @BBCNewsbeat on Twitter