The Black Keys reveal new album on Mike Tyson's Twitter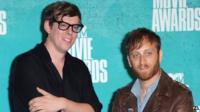 The Black Keys have revealed details of their upcoming eighth album via Mike Tyson's Twitter account.
The former boxer posted a message with the words "Turn Blue" along with a link to a teaser clip.
The video revealed the album's release date, scheduled for 13 May.
In the clip a record spins as a motivational speaker talks in a hypnotic way, saying: "I am inside you now. You can feel me. I will breathe life into our hopelessness."
He continues: "I will be your messiah, your God, your therapist, your lover, your mother, your father, and you are my son, and you will obey me."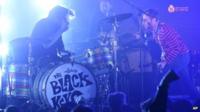 The Black Key's new single, Fever, is out on Monday and is the first track to be released from the album.
Drummer Patrick Carney has also been posting images of clowns and people painted blue to his Instagram account, in the run up to the announcement.
He and bandmate, guitarist Dan Auerbach, formed The Black Keys in 2001.
Last year the pair won numerous Grammy Awards, including best rock performance, best rock song for Lonely Boy and best rock album for El Camino.
They also picked up the 2013 Brit Award for best international group.
Follow @BBCNewsbeat on Twitter