Spam reporting text service launched by mobile operators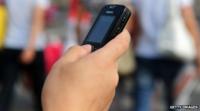 Four of the UK's largest mobile phone firms have launched a new service to report spam text messaging.
The GSMA, a collective association of the networks, said in a statement that EE, O2, Three and Vodafone had signed up to the Spam Reporting Service.
It will allow mobile phone users to report nuisance messages by texting SPAM to 7726.
The information will then allow operators to see who is sending them, so they can be shut down more easily.
Working with the UK Information Commissioner's Office, mobile providers are already looking into how to expand the service to include nuisance calls.
"Increasing numbers of consumers are victims of spam and mobile network operators are working hard defending against these threats," said GSMA CEO John Hoffman.
"The GSMA spam reporting service provides operators with a tool to measure the extent of fraud and phishing and provides the insight needed to address sophisticated message threats that could harm users.
"By working closely with the ICO, the UK's operators are making it more difficult for spammers and fraudsters to target mobile phone users in this country."
The information gathered from customers is stored in the Cloud.
That means that it can be accessed in real-time by all the major phone operators, allowing them to quickly shut down spamming attacks and prevent them from spreading to other networks.
"The real-time information about spam attacks we are now receiving from the UK operators is helping us to quickly identify breaches in the privacy of electronic communication regulations, track down perpetrators and issue monetary punishments against them," ICO chief of enforcement Steve Eckersley said.
Before the introduction of this service, people had to fill out a questionnaire on the ICO website to file a complaint about spam messages.
The new service means it is reported instantly and is visible to all networks quicker.
Follow us @BBCNewsbeat on Twitter