Lady Gaga anti-bulimia petition launched after SXSW show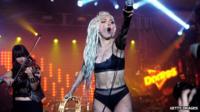 An online petition is calling for Lady Gaga to end her professional relationship with British performance artist Millie Brown.
It's after the pair staged a performance at SXSW in Texas this month where Brown vomited on the singer.
The petition, which has nearly 10,000 signatures, says "Lady Gaga once struggled with bulimia, but now she is glamorizing the eating disorder."
It added that the singer's "stunt was clearly intended to be provocative".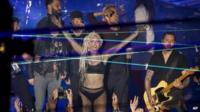 Gaga's SXSW performance began with a woman eating sausages and ended during Swine, with Brown drinking coloured milk, forcing her fingers down her throat and vomiting the liquid.
The statement on the petition website added that other bands and acts have been doing similar performances "since the early '70's" and Gaga's act wasn't "original".
It added that "unlike those acts, Lady Gaga intends to be a role model, especially for young people. Glamorizing bulimia will only harm her fans, and considerably lowers her music and her message".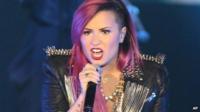 The petition follows comment from Demi Lovato on Twitter about Gaga's performance.
She criticised the Applause singer saying: "And that's why I had to say something. To let the people who don't understand the art in it, that bulimia isn't cool, and it won't get you on stage with your favourite artist."
Millie Brown is known for creating artworks by vomiting coloured milk onto canvases.
She tweeted a response to the criticism of the show, saying: "I believe in absolute freedom of expression. Challenging perceptions of art & beauty. If art is your communication it should not be censored."
Follow us @BBCNewsbeat on Twitter