Breast cancer charity donations soar after social selfies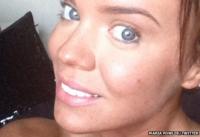 A cancer charity says it has received hundreds of thousands more donations than usual in the last 24 hours after women posted barefaced selfies of themselves on social media.
The #nomakeupselfie started trending earlier this week but wasn't a campaign started by Cancer Research UK.
The women taking part have each donated a few pounds to the charity before nominating friends to do the same.
Celebrities like Maria Fowler and Kym Marsh have also got involved.
Cancer Research UK have been left wondering how the campaign started.
Aaron Eccles, senior social media manager for the charity said: "We don't know where it came from. We are trying to find out.
"Some people say it came from the Oscars, some people say it's an Australian thing or a UK thing."
He added: "But whatever happened, it started organically and just went a bit crazy."
Facebook, Instagram and Twitter have seen hundreds of thousands of women posing for snaps wearing no make-up.
The charity said it has had more than 800,000 text donations raising more than £1 million in the last 24 hours, which it says is "unprecedented" and that number is set to rise throughout the day.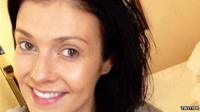 Breast cancer is the most common form of cancer in the UK.
The photos have split social media website users, with some people arguing that posting a photo doesn't go far enough to raise awareness about cancer.
"nomakeupselfie is the biggest load of rubbish I've ever heard. How does putting a selfie with no make up on support cancer?" said one Twitter user @lilyaccot.
"How to raise money for cancer charities: donate money to them. How not to raise money for cancer charities: post a nomakeupselfie" said another user @hollybrocks.
Follow @BBCNewsbeat on Twitter