Many students living in poor accommodation, says NUS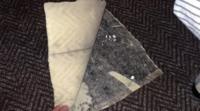 More than three-quarters of students live in poor accommodation, says the National Union of Students (NUS).
It also claims many struggle to get help from landlords.
The NUS wants tougher regulation for letting agents, like there is in Scotland, to help stop "exploitation of students".
The National Landlords Association says it doesn't recognise the NUS' findings and that its own figures show 69% of tenants are happy with private rental.
A spokesman said: "We work closely with universities to try to deal with any problems that arise."
Twenty-year-old Oliver Nelson and his friends moved into a student house last January.
"We decided we wanted to live together towards the end of the year and panicked when people said most houses were gone," he said.
"So we just went in and got our place straight away. I've never signed a contract before but assumed it would be fine."
He claims their student house was a disaster from the beginning.
"There were already pins in walls, missing chunks of wallpapers that were meant to be fixed. We didn't have a table. There was so much mould in the bathroom."
In pictures: Your substandard student housing
While some things have been fixed, he says he's found the letting agency he and his friends used to be unhelpful.
He said: "The boiler is leaking brown gunge and we've only just got hot water after four months. There's an endless list of problems."
Oliver admits he and his housemates have learned a lesson.
Students 'stereotyped'
The NUS says more than a third of students like Oliver tell them their homes have problems.
Many say they get little help from their letting agencies to resolve them.
Out of 2,870 people questioned, more than 50% say they have condensation and mould and a quarter claim to be dealing with an infestation of maggots and rats.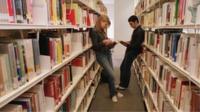 Oliver believes part of the issue is that students are unfairly stereotyped as a group of people who don't care about their accommodation.
"We found houses that were really nice, way more affordable than this but we weren't allowed it as we're students," he said.
The NUS says the process of finding a house and then living in it, is a real problem for students.
Rent, convenience and location are the main aspects students look for, but a fifth rush to sign contracts and many end up paying excessive fees.
Colum McGuire from the NUS thinks students get a raw deal.
"Students can be seen as vulnerable tenants and are exploited," he said.
"Landlords have a responsibility to tell students about their rights as they do with any renters before they sign a tenancy agreement.
"I think far too often students are seen outside of regular tenants and aren't given those sorts of opportunities."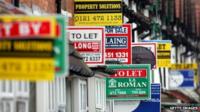 The NUS is asking for tighter regulations.
It wants an end to letting fees, as has happened in Scotland, so students have a better idea of the overall cost of renting in the private sector.
When it comes to infestations, it says the government should help councils more financially.
Housing Minister Kris Hopkins said students, like any tenants, have a right to live in housing that is safe and habitable.
He said: "We have given councils £4 million to tackle the small minority of rogue landlords, and will be requiring letting agents to belong to redress schemes, so students will have somewhere to complain if they get a poor deal.
"However, we need to get the balance right, as excessive regulation would simply force up student rents."
Follow @BBCNewsbeat on Twitter