Rapper Tyler, The Creator, arrested for 'causing riot'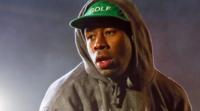 Tyler, The Creator has performed in Dallas hours after being released from jail over claims of inciting a riot.
Police in Texas say the 23-year-old "encouraged behaviour causing an immediate danger and injury to persons" at a venue at the South by South West music festival.
It's understood he shouted to fans queuing outside to "push through" the gates, which they did.
His publicist declined to comment.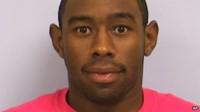 If the rapper is convicted, he could face a penalty of up to a year in jail and a $4,000 (£2,400) fine.
Tyler was released on Saturday after securing a $25,000 (£15,000) bond and played a sold-out show at the House of Blues in Dallas.
A report of Thursday's incident, released by police, describes how officers were called to the Scoot Inn in Austin after reports of overcrowding.
When they arrived they heard the Odd Future rapper yelling "All y'all outside the gates, y'all push through".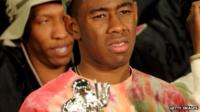 The report says "the crowd waiting in line outside started to try and push employees working the door out of the way."
When security staff attempted to close the gates the crowd became "unruly and enraged".
It's claimed Tyler then shouted again "Y'all push through, get in, come on".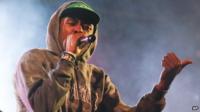 He apologised then began cursing at the door staff before walking off stage, according to officers.
The rapper, whose name is Tyler Gregory Okonma, was arrested at Austin-Bergstrom Airport.
A statement on the Austin Police Department website says "regardless of the size of a crowd, the encouragement of unruly and unlawful behaviour is against the law and cannot be tolerated."
Judged too harshly
In February Odd Future were denied entry to New Zealand where they were due to play Eminem's Rapture festival.
Officials there said he posed a potential ``public threat'' because of past troubles, ``including incidents at past performances in which they have incited violence.''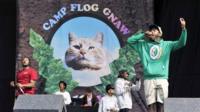 At the time the groups manager, Christian Clancy, defended them saying they were being judged too harshly.
In an unrelated incident earlier this week, two people were killed after a drunk driver crashed through barricades set up for the SXSW festival.
Follow @BBCNewsbeat on Twitter