Chris Brown arrested at rehab facility in Los Angeles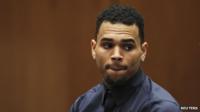 Chris Brown has been arrested at the rehab centre where he was being treated in California.
Whilst the exact details are not known, he was discharged from the facility for failing to comply with its rules and regulations.
The singer was then taken to a Los Angeles jail where he'll stay until a court appearance on Monday.
In November, he was sentenced to three months of in-patient rehab.
It was suggested by probation officers overseeing him following the punishment for the 2009 attack on his ex-girlfriend Rihanna.
Rehab
Police officials in California said Brown co-operated with officers when he was arrested at the Malibu treatment facility but a probation spokesman wouldn't reveal what he had done.
More information is likely to come out when he appears before a judge next week.
Brown had been been ordered to remain in rehab for anger management treatment.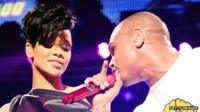 A letter from the facility in January stated that the singer was also being treated for bipolar disorder, post-traumatic stress disorder and past substance abuse.
The probation for the Rihanna assault had been scheduled to end this year, but a judge revoked it last year after he was arrested on an assault charge in Washington DC. That case is still pending.
In addition to getting treatment, he was under orders to complete 1000 hours of community service this year.
A probation report in February said he'd completed 250 hours and he was being co-operative with probation officials.
Follow @BBCNewsbeat on Twitter