Fourth death confirmed in SXSW festival car crash
A fourth person has died after a car crashed into crowds at the South by Southwest (SXSW) festival in the US.
Austin police named DeAndre Tatum as the latest victim of the crash, which happened on 13 March.
The driver, 21-year-old Rashad Charjun Owens, currently faces two capital murder charges after a man and a women were killed in the collision in Austin, Texas last Thursday.
On March 17 Sandy Thuy Le, 26, was named as the third victim of the crash.
Following the incident, Jamie Ranae West, 27, was the first named victim.
She was on a moped with her husband Evan West, 29, when they were hit.
He is listed as one of the people still being treated in hospital. It had been previously reported that both of the fatalities had been on the moped.
The man who died in the crash was on a bicycle, police said, although they did not release his name.
Massive Music, a company with offices in Amsterdam, New York and London, said employee Steven Craenmehr, 35, died suddenly in Austin.
Rashad Owens is also charged with 23 counts of aggravated assault with a vehicle.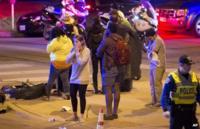 Austin Police Chief Art Acevedo said an officer on a drink-driving patrol had initially tried to stop Owens, who then tried to escape.
"It's clear for me from his actions, from what I've seen, that this is an individual who showed no regard for the human beings that he ploughed through in his attempt to get away," he added.
Blood samples from the accused are currently being tested.
Local students have started fundraising initiatives to help the victims, while medical teams have also been appealing for people in the area to donate blood.
Images of ambulances and fire engines and people being treating at the scene were shared on social media.
Police confirmed the news on Twitter and also appealed for people who had been in the area at the time to come forward.
"If you witnessed the incident that took place at 9th and Red River please make sure you talk with an officer on the scene. #SXSW," they wrote.
The collision happened outside of the Mohawk venue. According to its website, Tyler the Creator was due to perform at the venue in the early hours of Thursday morning.
The venue also posted a message on the social media site, confirming the shows and events had been cancelled.
"Our thoughts and prayers are with the families of the victims from tonight's tragedy. Make sure everyone you know is home safe tonight," they added.
SXSW, which ran from 11-16 March, is known as one of the world's best platforms for rising talent.
Follow @BBCNewsbeat on Twitter