The future of the gaming industry: The sky's the limit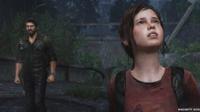 Zombie thriller The Last of Us was the big winner at this year's video game Baftas, taking home five prizes the including best game.
Its complex storyline and characters impressed judges, with one expert saying they "probably represent where we're going with games in the next 10 years".
The past 12 months have also seen a new generation of consoles in the PS4 and XBox One and growth in mobile gaming.
So what's next for the industry?
'New art-form'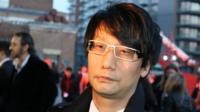 Metal Gear creator Hideo Kojima said new levels of player freedom, seen in the likes of Grand Theft Auto V and The Last of Us, and the depths of storylines means gaming could start to merge with film production.
"I believe that at some point making games and movies will become the same thing," he added.
"I'm really looking forward to seeing how and when that will happen."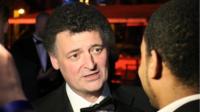 Sherlock and Dr Who writer Stephen Moffatt agreed that the two platforms could work more closely in the future, describing video gaming as a "brand new art form".
"It's a different world to the one I'm used to but it's amazing," he said.
However, he added that the speed of game production is holding it back at the moment.
"I think the problem is the amount of time it take to make a truly great game is prohibitive, we would have used up a whole doctor by the time we got the game out.
"Perhaps the message to the game industry is you're really going to have to speed it up.
Rise of the indie?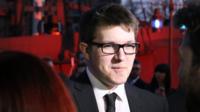 Dan Pearce was nominated in the debut game category for Castles in the Sky.
"I think it'll be interesting to see what happens in the next few years in regards to indie developers working with consoles," he said.
"We've seen quite a lot of big talk from Sony and Microsoft saying 'We've got all these indies developing games for us'.
"I'm interested to see how many of those games come out, how easily they come out and how people feel about them when that happens."
'Sky's the limit'
As far as the established game makers are concerned though, there's nothing holding them back.
Evan Wells who is the co-president of Naughty Dog, the team behind The Last of Us, said: "The sky's the limit, I guess. That's the fun part.
"New technology with more memory and better graphics capability, I think all of this is just going to push us.
"I don't know what the future of the industry is but for us it's just 'keep pushing'."
Follow @BBCNewsbeat on Twitter