Two dead and 23 injured in SXSW festival car crash
Two people have been killed after a drunk driver crashed through barricades set up for the South by Southwest (SXSW) festival in the US, police say.
A man and a woman died and many others were injured on the crowded street in Austin, Texas.
The driver is thought to have been trying to escape from the police when the collision happened.
Austin Police Chief Art Acevedo said he had now been taken into custody after officers shocked him with a stun gun.
The driver will face two counts of capital murder and and 23 counts of aggravated assault with a vehicle over the crash, which took place about 12.30am local time (05:30 GMT) on Thursday.
Police later said the incident was thought to be an "intentional act".
Acevedo confirmed the victims were a woman from Austin on a moped and Dutch man on a bicycle. No names have been released.
Another man who was on the moped is in good condition.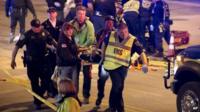 Many of the 23 who have been hurt were thought to have been leaving a club where a concert had been held.
Eight people remain in hospital with two patients in a critical condition.
The police chief said the man also hit a cab before jumping out of his car and trying to escape on foot.
Images of ambulances and fire engines and people being treating at the scene were shared on social media.
Police confirmed the news on Twitter and also appealed for people who had been in the area at the time to come forward.
"If you witnessed the incident that took place at 9th and Red River please make sure you talk with an officer on the scene. #SXSW," they wrote.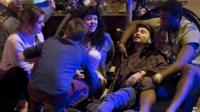 The collision happened outside of the Mohawk venue. According to its website, Tyler the Creator was due to perform at the venue in the early hours of Thursday morning.
He tweeted: "Show Isnt Happening, Something Sad Happened. I'm Bummed."
The venue also posted a message on the social media site, confirming the shows and events had been cancelled.
"Our thoughts and prayers are with the families of the victims from tonight's tragedy. Make sure everyone you know is home safe tonight," they added.
A spokeswoman for the festival said there would be schedule and venue changes
SXSW, which runs from 11-16 March, is known as one of the world's best platforms for rising talent.
Follow @BBCNewsbeat on Twitter