Real Housewives star faces prison over fraud charges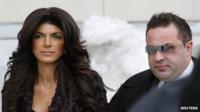 One of the stars of Real Housewives of New Jersey, Teresa Giudice, is facing a prison sentence over fraud charges.
She and her husband Giuseppe "Joe" Giudice pleaded guilty to fraud for concealing their income and lying during bankruptcy proceedings.
In a statement read by her lawyer, Henry Klingeman, Mrs Giudice said that she takes responsibility "for a series of mistakes I made several years ago".
She'll make a statement to the court when they are sentenced on 8 July.
"I will describe the choices I made, continue to take responsibility for my decisions and express my remorse to Judge Salas and the public," she wrote.
"I am heartbroken that this is affecting my family - especially my four young daughters, who mean more to me than anything in the world."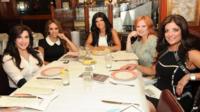 Both pleaded guilty to conspiracy to commit mail and wire fraud and three types of bankruptcy fraud.
Mr Giudice also pleaded guilty to failing to file a tax return for 2004, though he acknowledged he didn't file taxes on income of approximately $1 million (£600,000) between 2004 and 2008.
Under legal guidelines, Joe Giudice faces a potential sentence of 37 to 46 months and Teresa Giudice could get 21 to 27 months. Mr Klingeman said Mrs Giudice will seek probation.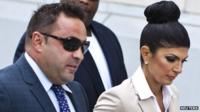 Mr Giudice is an Italian citizen and could be deported after his time in prison, said his lawyer, Miles Feinstein.
The reality TV star came to the US when he was a child and did not know that he was not an American citizen, Mr Feinstein said.
The lawyer added: "It would be a grave injustice, and inhumane, for him to be deported."
The couple was charged last year with exaggerating their income while applying for loans before their show debuted in 2009, then hiding their fortunes in a bankruptcy filing after their first season aired.
The couple filed for bankruptcy in 2009 and claimed they owed $11m, (£6.6m) including $2.2m (£1.3m) in mortgages and nearly $12,000 (£7,200) to a fertility clinic, according to court documents.
On Tuesday, they admitted submitting fraudulent mortgage and loan applications and fabricating tax returns and W-2 forms.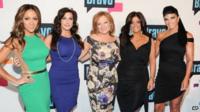 Since appearing on Real Housewives of New Jersey, Mrs Giudice has created and sold a number of product lines including cookery books, hair care and speciality food and drink.
On the show, she is known for her expensive tastes and for arguing with her brother and sister-in-law.
She continued to work on the show ahead of the court appearance and plans to continue until her sentencing, Mr Klingeman said.
Follow @BBCNewsbeat on Twitter