Justin Bieber tattoo images released by Miami police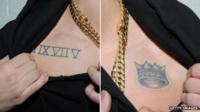 Miami Beach police department has released photos of Justin Bieber's tattoos.
The images were taken following the singer's arrest on 23 January.
The 20-year-old musician was charged with driving under the influence and resisting arrest before being released on bail set at $2,500 (£1500).
His body art includes a pair of praying hands, a picture of Jesus and a treble clef behind his left ear.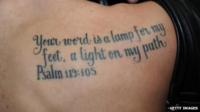 One of the images shows a tattoo on the singer's back with a quote from Psalm 119:105 of the Bible which reads: "Your word is a lamp for my feet, a light on my path."
The images have been released under Florida's public records law, which allows the media to request any evidence that forms part of a criminal case.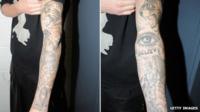 Last month, CCTV footage of Justin Bieber's arrest was released by the State Attorney's Office in Miami.
The recording shows the singer being frisked and walking a straight-line sobriety test.
Bieber's charges also included driving with an invalid licence, as well as drag racing on a street in the Miami Beach area of the city.
Officials in the US allowed the release of the videos after weeks of discussions.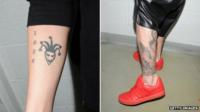 A Miami judge has ruled that five more videos of the arrest, including a partially naked Justin Bieber giving a urine sample, can be released but only after blocking out his genitals.
The new set of videos also includes footage of a drug test following his arrest.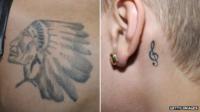 Justin Bieber's lawyer, Roy Black, said publishing the initial clips would cause "irreparable harm" to his client.
The singer has pleaded not guilty to drinking under the influence, resisting arrest and driving with an invalid licence.
Follow @BBCNewsbeat on Twitter