John Travolta speaks about Idina Menzel error at Oscars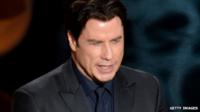 John Travolta has spoken about mispronouncing Idina Menzel's name at the Oscars earlier this week.
In a statement, the actor said: "I've been beating myself up all day. Then I thought... what would Idina Menzel say?
"She'd say, 'Let it go, let it go!' Idina is incredibly talented and I am so happy Frozen took home two Oscars Sunday night!"
He was referring to the award-winning song Let it Go, which Menzel performed after his mangled introduction.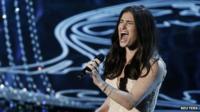 On Sunday night's Academy Awards show, Travolta appeared to welcome Menzel on stage, but seemed to say the name "Adele Dazeem".
Frozen, which was made by Disney, picked up the awards for best animated film and best original song.
An estimated 43 million people watched the Oscars in the US alone, giving the ceremony the biggest audience in a decade.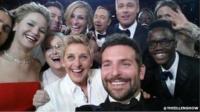 During the show, host Ellen DeGeneres took a selfie with several stars in the audience, including Jennifer Lawrence and Bradley Cooper. It went on to set the record for the most retweets on Twitter - more than two million.
She broke the record within the hour, and in doing so, broke Twitter's servers too.
Shortly after Travolta's mistake, a Twitter account with the handle @adeladazeem was created and has more than 20,000 followers.
Other sites launched a name generator, in the style of the actor's error.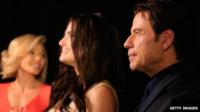 Menzel, an accomplished theatre actor, is due to star in a new Broadway musical, If/Then, about a women who moves to New York in search of a new life.
She is a Tony award-winner and has starred in Wicked and also Rent, both on stage and on screen.
Travolta, best known for his roles in Grease and Pulp Fiction, has announced he will star in Gotti: In the Shadow of My Father, about crime boss John Gotti.
Follow @BBCNewsbeat on Twitter