Alt-J won't replace bassist who quit earlier this year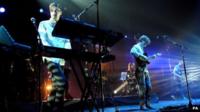 Award winning British band Alt-J say they will not replace bassist Gwil Sainsbury.
He quit the band earlier this year for "personal" reasons.
The remaining members confirmed that they would stay together shortly after he revealed his plans and now say they won't be looking for anyone new.
"I don't think there would be any point in replacing him as a full member of the band," keyboardist Gus Unger-Hamilton said.
"Maybe get someone else to play guitar or something on tour.
"But I think it would be kind of weird, 'oh you're now in the band?' I don't know how that would work."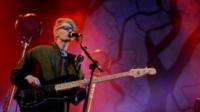 Alt-J formed five years ago when the four, including Gwil Sainsbury, met at Leeds University.
They have seen huge success since releasing their debut album An Awesome Wave in May 2012.
The record won the prestigious Mercury Prize and was named album of the year at the Ivor Novello Awards, which honour songwriting.
It would appear there are no hard feelings between the remaining three and their former bassist, who insist they are still best friends.
"Very amicable, absolutely yeah, it just wasn't for him," Gus explained.
"It is harder than people realise, being in a touring band, it's a lot harder," drummer Thom Green added.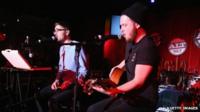 He also hinted at more specific reasons as to why being in Alt-J "just wasn't" for Gwil.
"[When you are] touring, you are never, ever at home," he said.
"You have long term girlfriends, who might just not like travelling much. There's a lot of ingredients which didn't suit him too much."
The remaining three are now looking forward to starting work on the follow-up to their hugely successful debut record.
"Gwil left at a really good time," Gus explained.
"He left at the end of the first album campaign, it was a nice clean break."
He added: "We've got lots to take our mind off losing Gwil, which is sad. We're a three piece you know, we've got a lot of work to do this year."
Follow @BBCNewsbeat on Twitter